You are here
Photo story: Pakistan Flood Response
Photo story: Pakistan Flood Response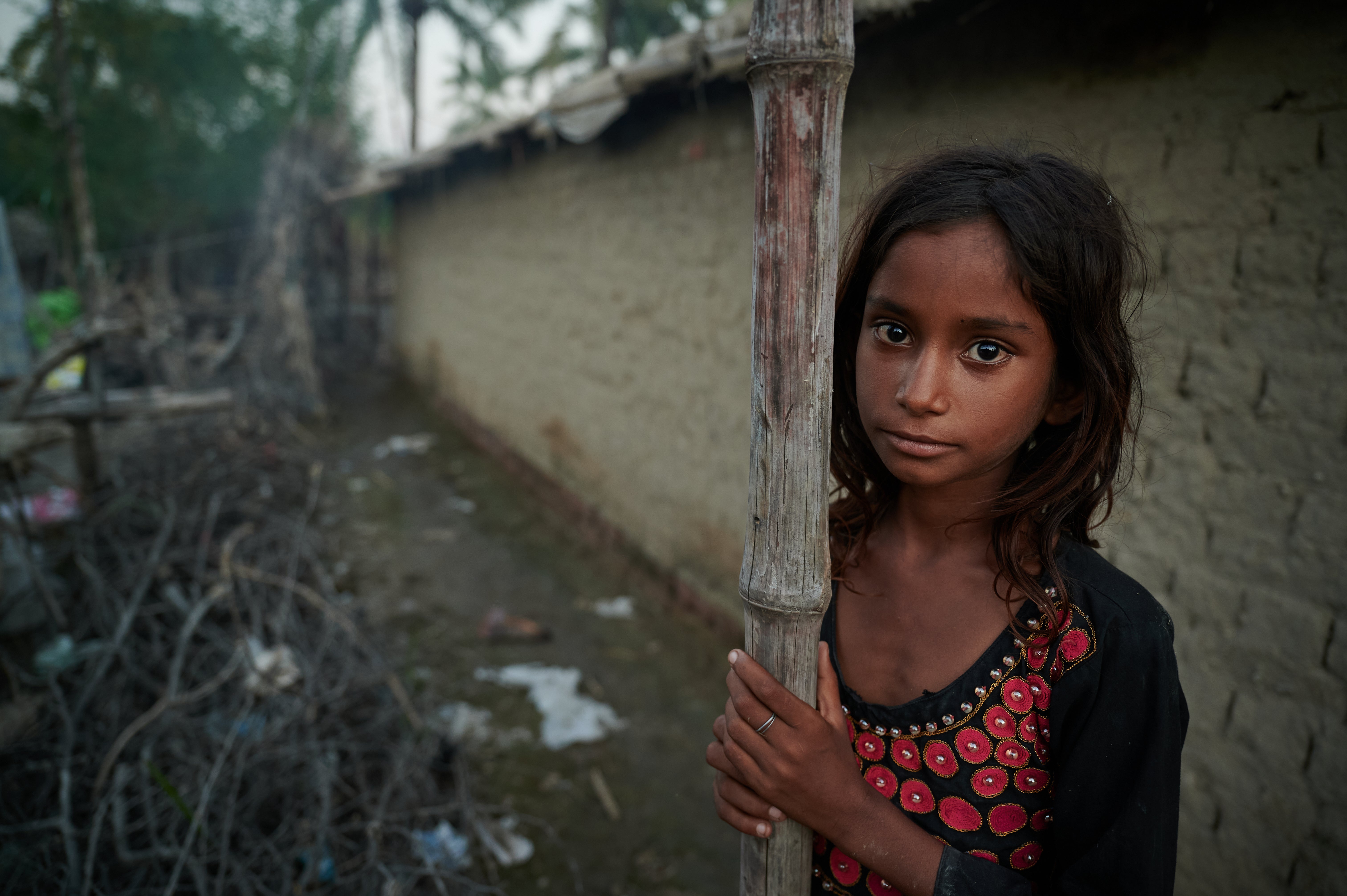 Pakistan floods: a crisis for women and girls
33 million people have been impacted by the climate disaster in Pakistan. As in any crisis, women and girls are most affected. Unprecedented rainfall of up to 5 times the 30-year average swept away dams, health centers, schools and homes within minutes, leaving millions of families displaced.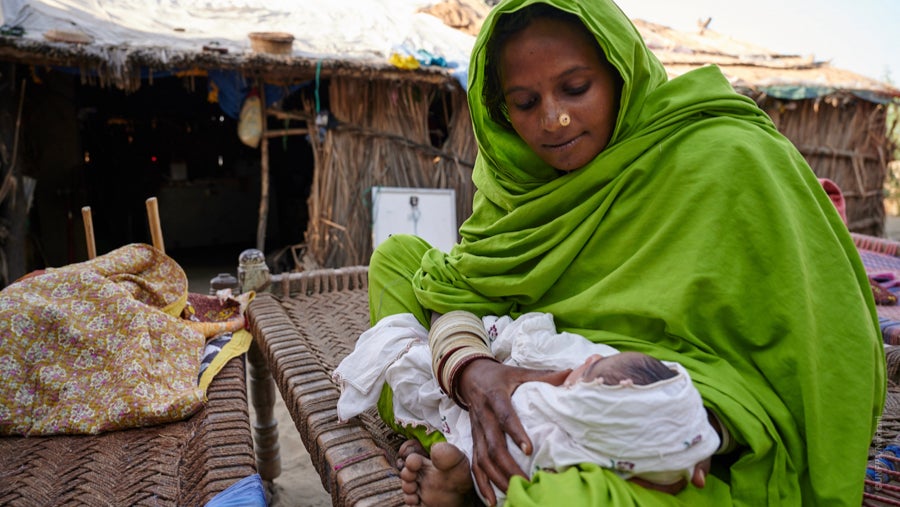 "I had been hurting for days, but when it became intolerable and I started to bleed and fainted, the elders decided to take me to the hospital in a tuk tuk," says Sita.
A traditional birth attendant sat with her on the way but she delivered on the side of the road  and they cut the cord with a blade and cleaned the baby with a cloth.
Sita is one of 650,000 pregnant women who have been impacted by the floods in Pakistan and need reproductive health services. UNFPA is providing training and supplies to ensure all women can access a safe birth as the country recovers from the destructive floods.  ©UNFPA/Shehzad Noorani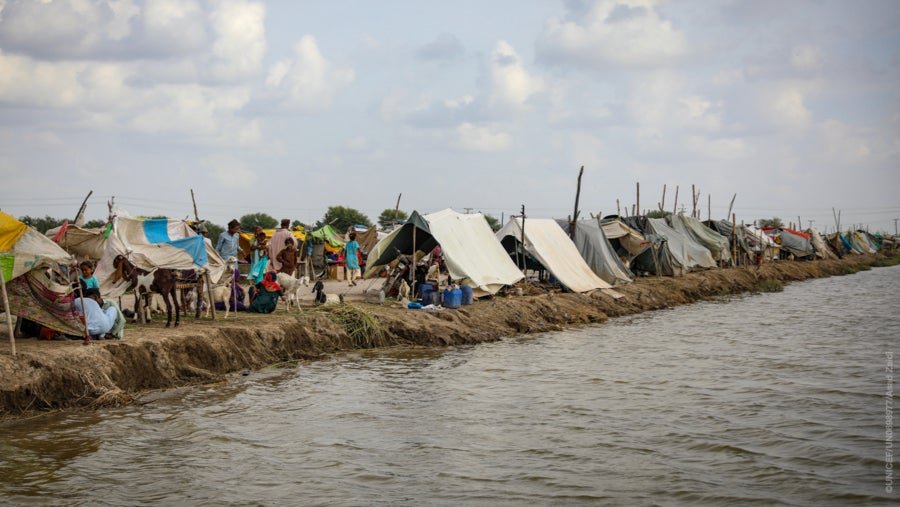 Temporary shelters of flood affected families who have taken refuge on the strip of dry ground on the roadside next to the edge of the flood water Sindh province. UNFPA's humanitarian efforts are responding to the health and protection needs of women, girls and vulnerable populations in this crisis. ©UNICEF/UN0698660/Zaidi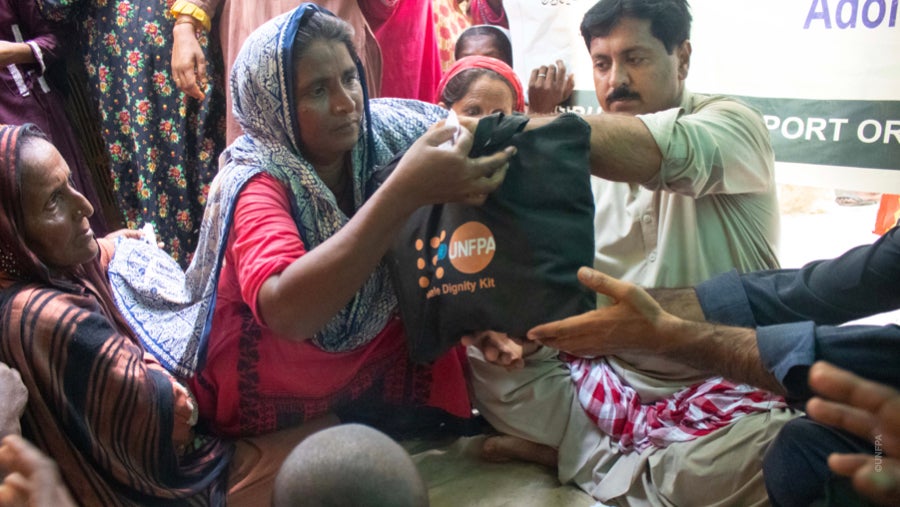 UNFPA distributes Dignity Kits in designated women and girls friendly spaces. The women are sensitised to the need for personal hygiene to keep themselves and their children safe from the outbreak of disease. ©UNFPA/Afia Salam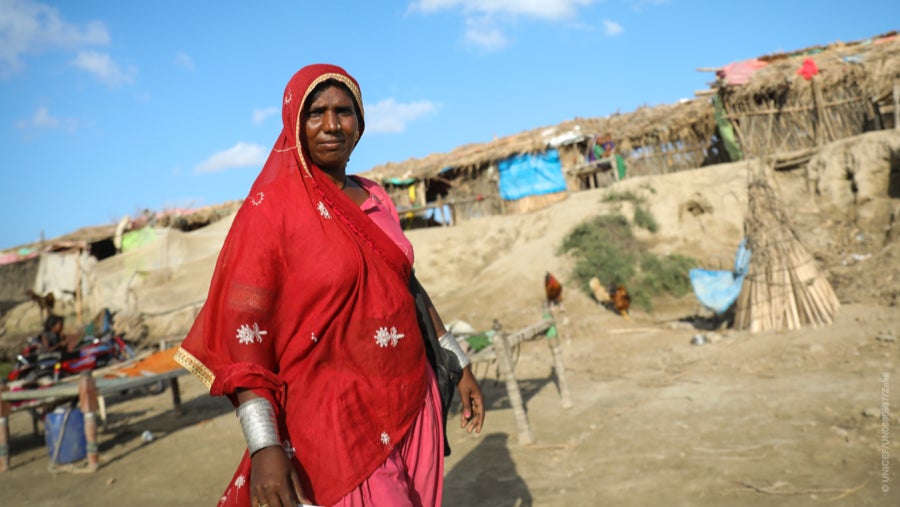 Chehri is a community health worker in Sindh province. She's on her way to work near the flooded village Sabit Ali Shah of Umerkot district. Chehri provides health education and screening support to mothers and children in her community. Despite losing her home to the floods, she continues to provide services to women as they all wait for help to reach them in makeshift tents. ©UNICEF/UN0698997/Zaidi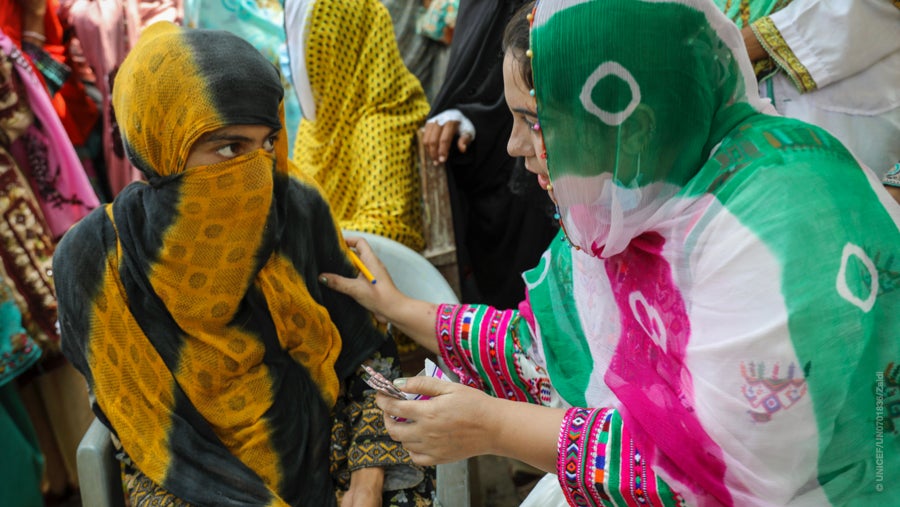 Hakima (left) is 7 months pregnant and gets advice on iron tablets from Rehana Baloch who is a Lady Health Visitor in flood-hit Balochistan province. 6,382 pregnant women will experience complications this month. They need access to a skilled birth attendant for a safe birth. ©UNICEF/UN0698997/Zaidi
650,000 pregnant women
in the flood-affected areas of Pakistan require maternal health services to ensure a safe pregnancy & childbirth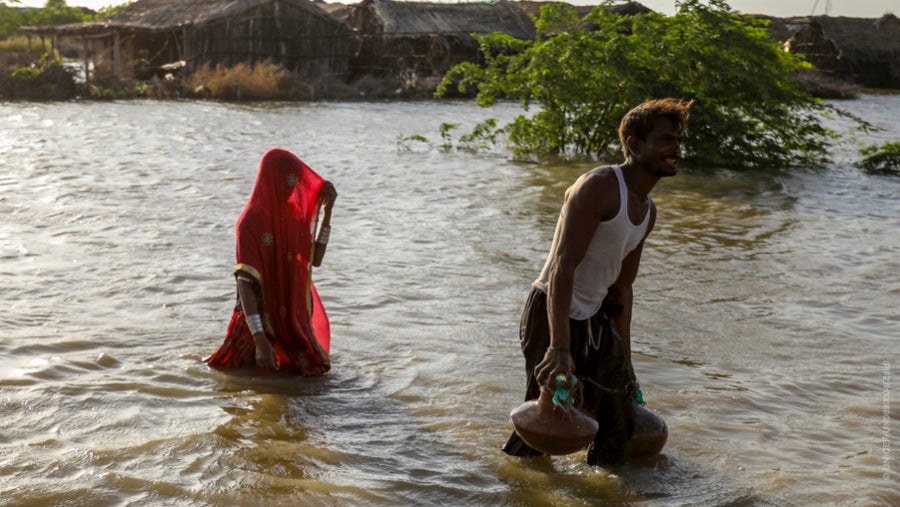 A woman with her husband heads towards a hand pump to collect drinking water in the flooded village Sabit Ali Shah in Sindh province. The family has taken refuge in a temporary shelter near their village but the shelter has no drinking water facilities. © UNICEF/UN0699004/Zaidi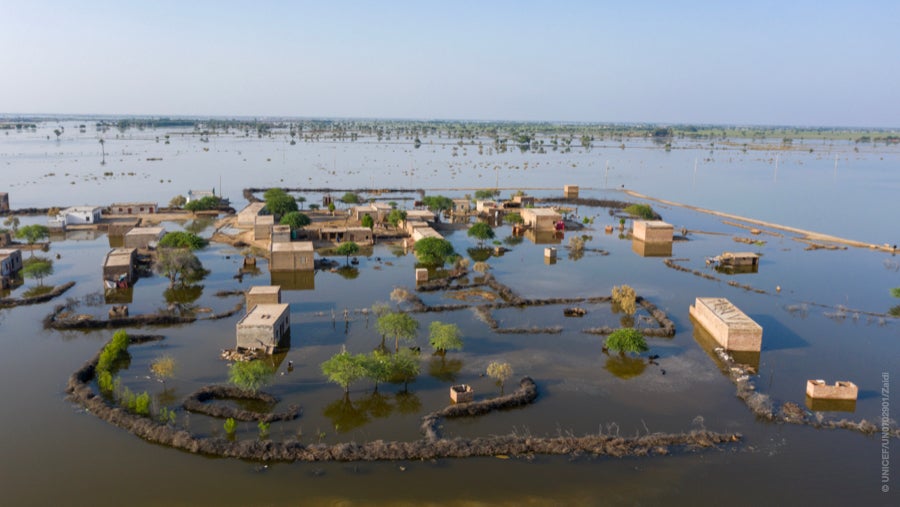 "When crisis hits, women do not stop getting pregnant and giving birth, and the risk of violence escalates rapidly."
-UNFPA Executive Director Dr. Natalia Kanem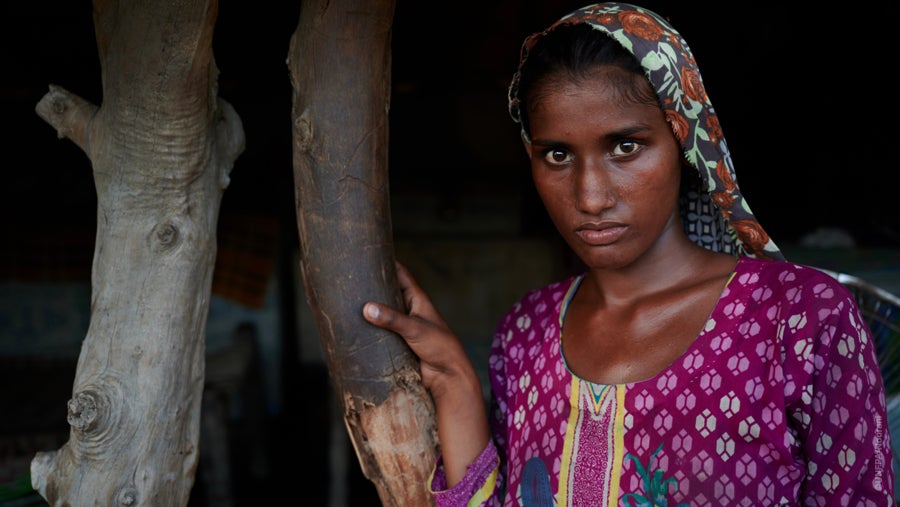 Baharah stands in front of the rubble of her home that collapsed during the flood in Shikarpur District in Sindh province.
She got married four years ago at the age of 16. Baharah has two young children and was at home with her family when the floods hit.
"It was raining hard," she says. "The village flooded and water started to enter our home. I was sitting with my children in a corner. We were afraid and did not know what to do. Suddenly the house collapsed and a wall fell on my son Soonh."
Both children were injured, but Soonh, who was just 2 month old, was in a critical condition. "It was difficult because of the rain, but we ran to the hospital. There were many people and everyone was screaming. We waited for hours. Finally, doctors saw him and admitted him to the hospital, but he died within 3 hours." ©UNFPA/Shehzad Noorani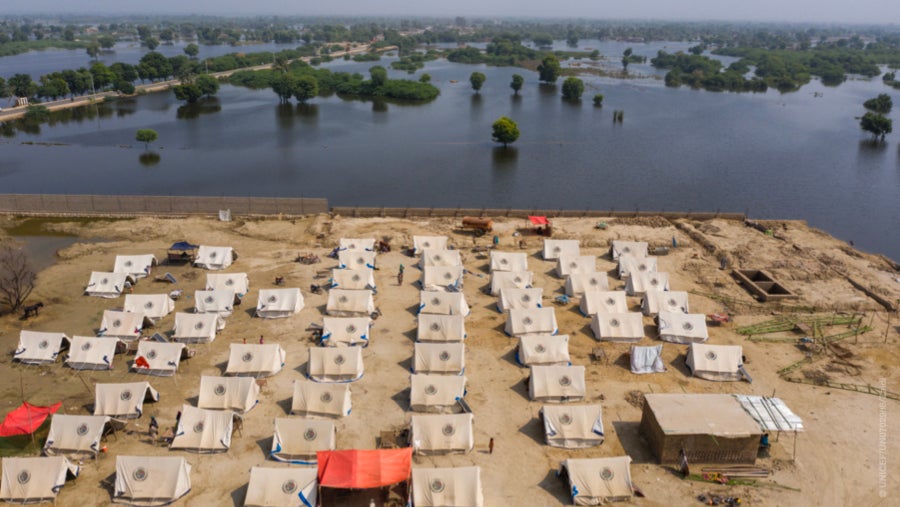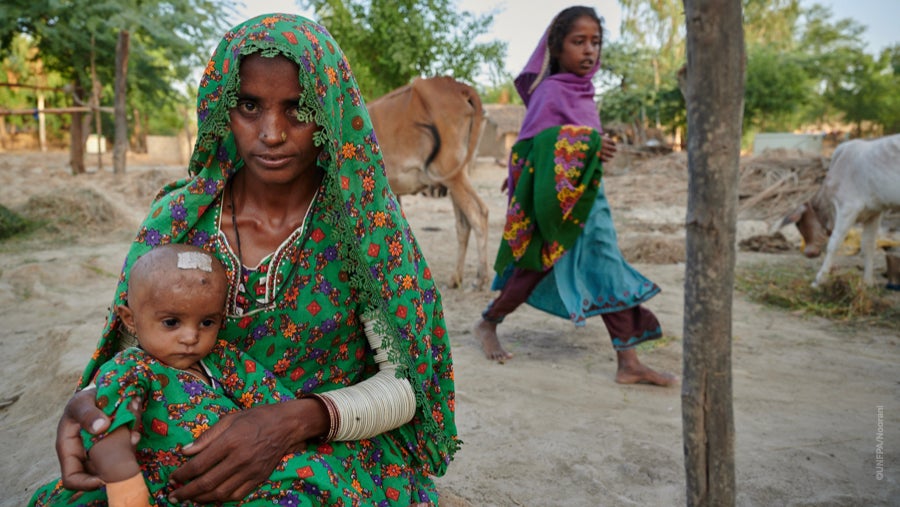 Guddi and her daughters outside their flood damaged home Sindh province. Mosquitoes breed in pools of water and many families don't have mosquito nets. Pregnant women have been suffering from diseases like malaria, diarrhoea, malnutrition and dehydration. With fields still underwater and crops damaged, villagers are out of work, underfed and vulnerable. ©UNFPA/Shehzad Noorani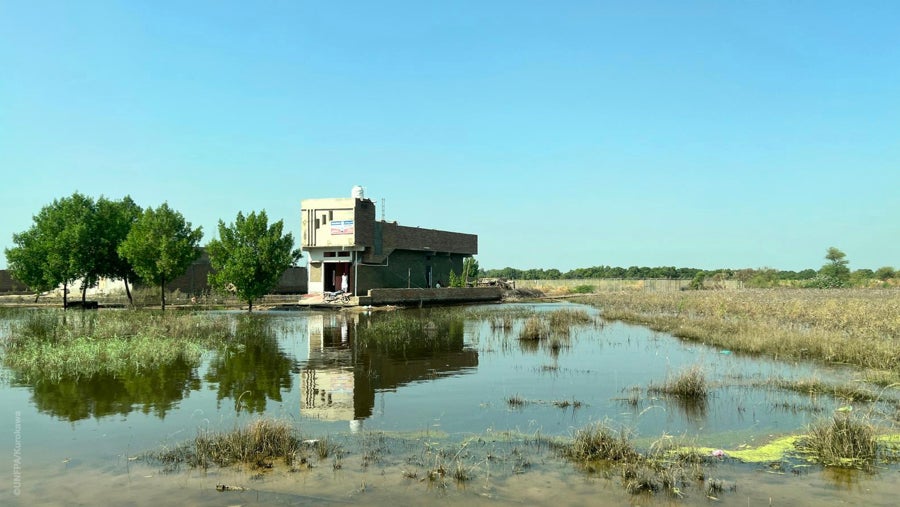 "Sexual and reproductive health services are often severely impacted, forcing women to give birth without much-needed medical support. Access to family planning and menstrual hygiene products can also be disrupted."
-UNFPA Executive Director Dr. Natalia Kanem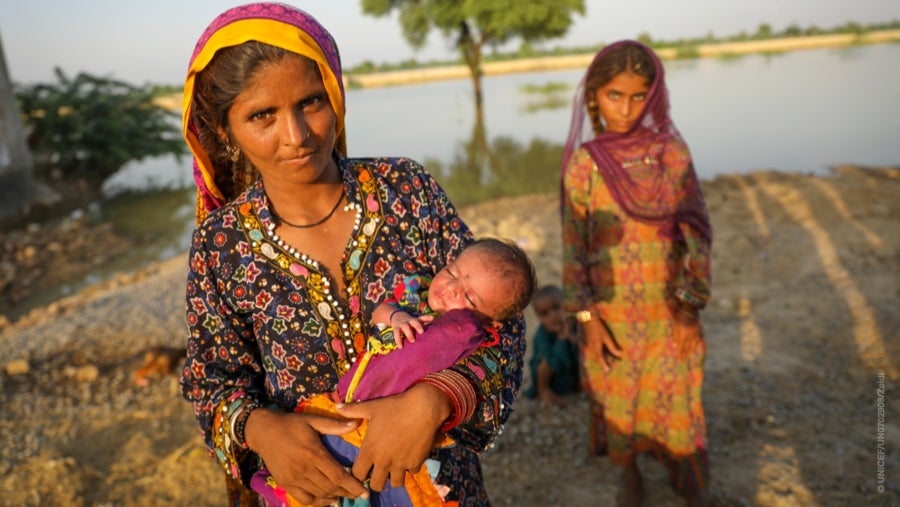 Mother of 4 Bakhtawar, with her newborn and her daughter in Jacobabad district. She gave birth as the family fled their flooded home, "I gave birth on the roadside with my mother," says Bakhtawar. "It was raining all day and late in the day we saw the water level rising in our village. We walked 3 kilometres in flood waters and I carried my infant son as the water was higher than his height." ©UNICEF/UN0696498/Zaidi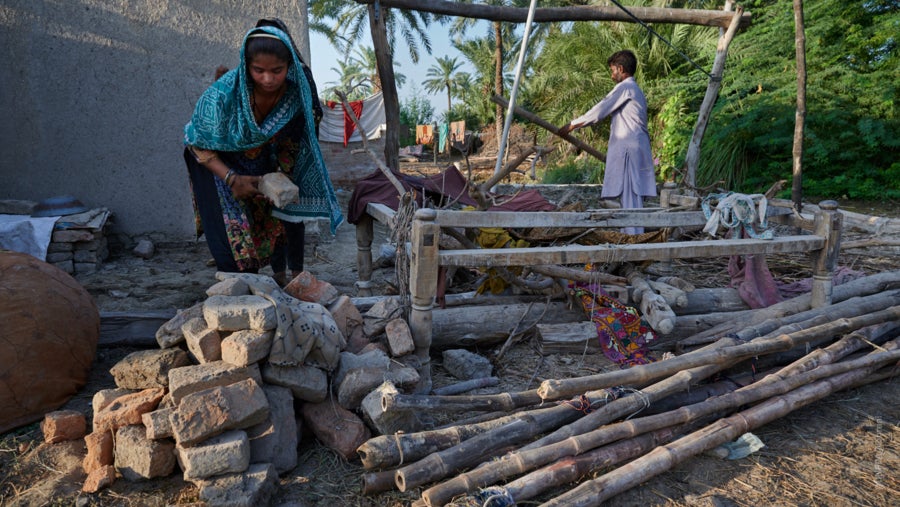 Farzana and her uncle clean up their home damaged during the flood in Sindh province. Farzana is engaged to be married. Her marriage was postponed by the floods. Now that the flood has damaged their home and family's finances, it is delayed again until her family recovers. ©UNFPA/Shehzad Noorani
"UNFPA is scaling up its emergency response to provide life-saving reproductive healthcare, medical equipment and medicines, gender-based violence services, and dignity kits for women and girls."
-UNFPA Executive Director Dr. Natalia Kanem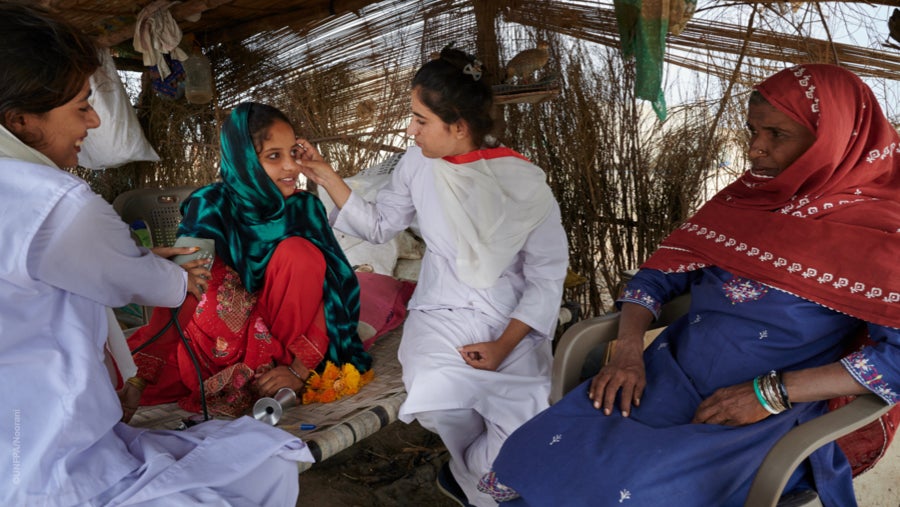 Nurses check Zameera's blood pressure in Goth Ramzan Mollah. Zameera  got married 10 months ago and she is 6 months pregnant. With more than 500 health facilities damaged in Sindh province, and 240 health facilities damaged in affected districts in Balochistan, UNFPA is working with partners on the ground to prioritise continued availability and access to essential lifesaving reproductive health services in affected areas. ©UNFPA/Shehzad Noorani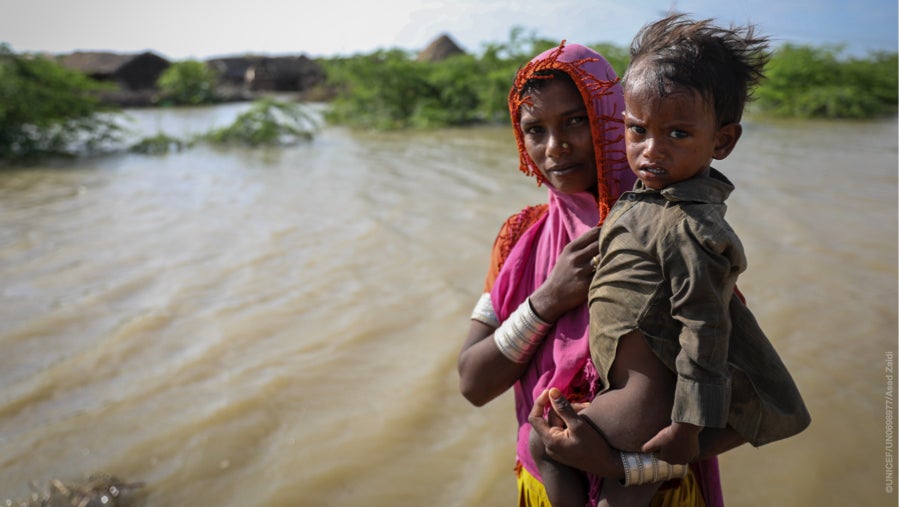 Shami with her 16 month-old child Hera next to floodwaters near their flooded village in Sindh province. UNFPA is scaling up its emergency response to provide life-saving reproductive health, and gender-based violence response services to women and girls. ©UNICEF/UN0698977/Asad Zaidi
Learn more
Statement by UNFPA Executive Director Dr. Natalia Kanem on the devastating floods in Pakistan
UNFPA Pakistan Situation Report #3 - Monsoon Floods