Ensuring rights and choices for all
17 May 2019
International Day Against Homophobia, Biphobia and Transphobia
Statement by UNFPA Executive Director Dr. Natalia Kanem Human rights are inherent to all human beings, and every person, without distinction, is entitled to a life free from violence, persecution, discrimination and stigma.  The widespread violence, discrimination and exclusion faced by lesbian, gay, bisexual, transgender,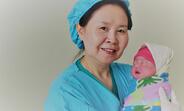 Reproductive rights and choices have become a reality for more women than ever. But we...

View the highlights of our latest World Population Report 2018 report here.