You are here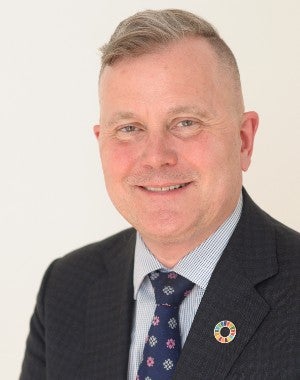 Björn Andersson
Björn Andersson joined the Asia-Pacific Regional Office of the United Nations Population Fund (UNFPA) as its Director in September 2017. Prior to this appointment, Mr. Andersson served as Chief of Staff to two Executive Directors of UNFPA, Dr Babatunde Osotimehin from 2013 to 2017 and Thoraya Ahmed Obaid from 2003 to 2008. 
Mr Andersson has almost three decades of extensive experience in international development cooperation with key positions in programme management, policy development and strategic organizational management, in the UN System and government agencies. 
Mr Andersson entered the United Nations system as a Junior Professional Officer in the UN Population Division working on preparations for the 1994 International Conference on Population and Development (ICPD), whose Programme of Action subsequently served as a foundation for much of the work UNFPA does today. He subsequently joined UNFPA where he worked as a Programme Officer in Zimbabwe and as a Coordination Officer in New York.  
In 1998 Mr Andersson returned to his home country Sweden, where be successively held positions with the Swedish International Development Cooperation Agency (SIDA) and the Swedish Ministry for Foreign Affairs, including as Deputy Director at the Ministry for Foreign Affairs from 2000 to 2003.  
From 2008 to 2013 Mr Andersson was Director of the Department for Development Policy at the Ministry for Foreign Affairs of Sweden, where he led a team of senior experts in various areas related to international development cooperation, including population and development, gender equality, economic growth, the environment, good governance, health and education. During this period, Mr. Anderson also served as Sweden's Chief Negotiator for the United Nations Conference on Sustainable Development (Rio+20). 
Mr Andersson holds a Master of Science degree in Horticultural Sciences from the University of Agricultural Sciences in Uppsala, Sweden. His studies focused on economic aspects of horticulture production, international rural development and political science. Mr Andersson has also completed specific courses in population and development at Princeton University, New Jersey, USA.