The 2018 International Youth Day theme is 'Safe Spaces for Youth', dedicated to ensuing the dignity and safety of youth. It's widely acknowledged that youth need safe spaces where they can come together, engage in activities related to their diverse needs and interests, participate in decision--making processes and freely express themselves. 
There are several types of safe spaces, such as civic spaces that enable youth to engage in governance issues; public spaces that afford youth the opportunity to participate in sports and other leisure activities in the community; digital spaces that help youth interact virtually across borders globally; and well-planned physical spaces can help accommodate the needs of diverse youth especially those vulnerable to marginalization or violence, as well as those displaced or otherwise impacted by disasters and conflict.
For this year's International Youth Day, the Interagency Task Team on Young Key Population (IATT YKP) and Thematic Working Group on Youth Peace & Security (TWG YPS) would like to share inspiring stories from select young people across Asia-Pacific on their struggles and commitments on working in the fields of sexual and reproductive health and rights, young key populations, comprehensive sexuality education, humanitarian response, and youth, peace and security - all in connection with safe spaces.
Muhammad Sarim Imran from Pakistan has been working in the field of sexual and reproductive health and rights (SRHR) since 2013, starting as a volunteer with a local organization across a range of issues. Sarim was one of the first to raise his voice for the inclusion of sexual and gender minorities in SRHR projects in his region. He worked as a youth social coordinator, promoting the empowerment and rights of young people. Sarim is also an SRHR advocate for Rutgers Pakistan's Youth National Advocacy Alliance. He has taken part in the United Nations Universal Periodic Review process by contributing to a report on SRHR issues faced by young people in Pakistan.
Broken childhood and shattered teenage years
I am Sarim, a 25-year-old brave queer person living in a deprived region of Pakistan.
I was continuously sexually abused by my home tutor when I was just 12 years old and this process continued for three years with parallel bullying and discrimination in school due to my girlish queer identity.
In 2008, I was just 15 when a group of people attacked me physically due to my sexual orientation in which I was injured badly, they were trying to cut my private parts as a "cure" to become heterosexual, in front of a mob. That incident killed me inside but I was still breathing.  I spent two long years in trauma, living in a single  dark  room without  any life sensation. The wounds on my body were healed in a few months but the wounds on my soul are not healed till now.
Phase of rebuilding to roar
I tried to commit suicide several times, but ultimately I promised myself that I will be a fighter - not a victim - to support other marginalized young people.
My first success was that my family accepted me as a queer person in 2010. I started my education again and after graduation I started working as a youth advocate for rights especially for the sexual and gender minorities. 
I was one of the people to raise my voice for the inclusion of sexual and gender minority youth in the sexual and reproductive health and rights projects in the southern Punjab region of Pakistan.
Advocate and support for other marginalized young people
I supported many sexual and gender minority young people who were the victims of sexual, physical, economic and mental abuse in my region. I devoted my heart to human rights and development for youth especially for marginalized youth despite a continuous personal broken life.   I proved myself from the local to regional, regional to national, national to international level as one of the best human rights youth advocates.
Brave enough to shine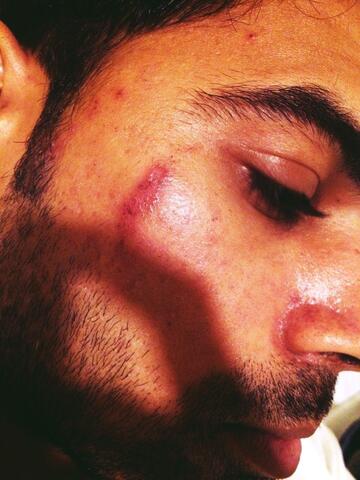 During my work I also faced threats, discrimination and hate from some people but I was brave enough to face all the things and continue my fight as a queer rights activist. I was once again beaten by some people in 2016 due to raising my voice for sexual and gender minority rights.
I believe that there will be stones in your way, it depends on you how you make a bridge from those stones rather than allowing them to stop you from your passion for youth rights.
Passion and long-term goals
Despite working with several international organizations for queer rights, I want to use research-based advocacy by getting more higher education to help realize the development needs of marginalized communities by making my own queer organization and setting an example for other young queer people that they can also achieve their passion and raise their voice - no matter how powerful the opposition.
I hope to bring innovation and creativity in the global dynamics of development of sexual and gender minority rights and also to address and end the exploitation of sexual and gender minority activists due to the power gap.