Events
Main events calendar
Upcoming Events

23 May 2019 - 24 May 2019
Oslo, Norway
This conference will be hosted by Norway, Iraq, Somalia, United Arab Emirates, UN OCHA, UNFPA, ICRC and other partners, and will take place in Oslo, Norway, on 23-24 May 2019.
Sexual and gender-based violence (SGBV) in humanitarian crises has wide-ranging negative consequences for survivors and their communities. The humanitarian response to SGBV has improved in recent years, but much remains to be done.
Details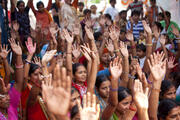 11 July 2019 - 11 July 2019
Global
World Population Day, which seeks to focus attention on the urgency and importance of population issues, was established by the then-Governing Council of the United Nations Development Programme in 1989, an outgrowth of the interest generated by the Day of Five Billion, which was observed on 11 July 1987.
Details