You are here
One Billion Strong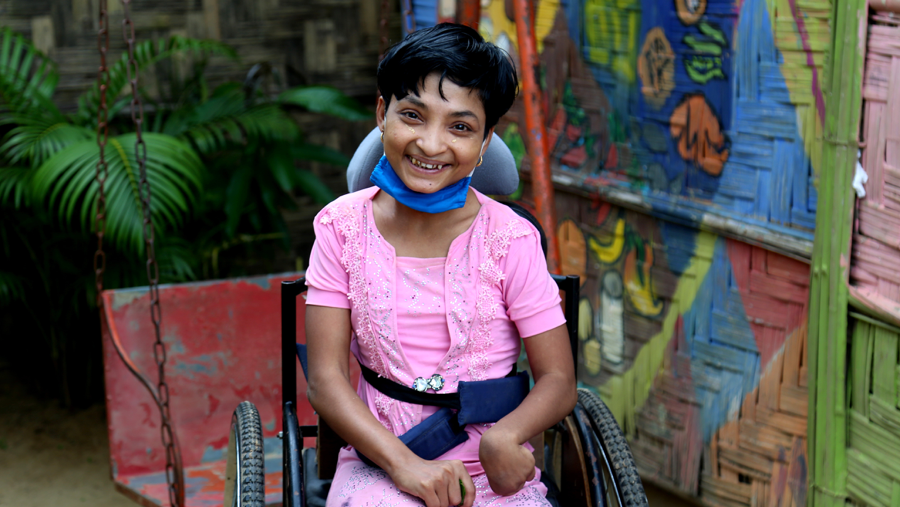 One Billion Strong
One in every seven people in the world has a disability. Governments across the region need to build more inclusive services to deliver education, healthcare and economic support so people with disabilities can thrive and play a vital role in their communities.
The solutions for transforming societies to become more inclusive are as diverse as the people who are driving this change. This collection of stories from across the Asia and Pacific region presents some of the unique challenges people with disabilities face in a region that is battered by disasters and coping with multiple conflicts and crises. UNFPA celebrates and supports the activists who are creating a better world by building better systems to deliver fundamental human rights to people with disabilities.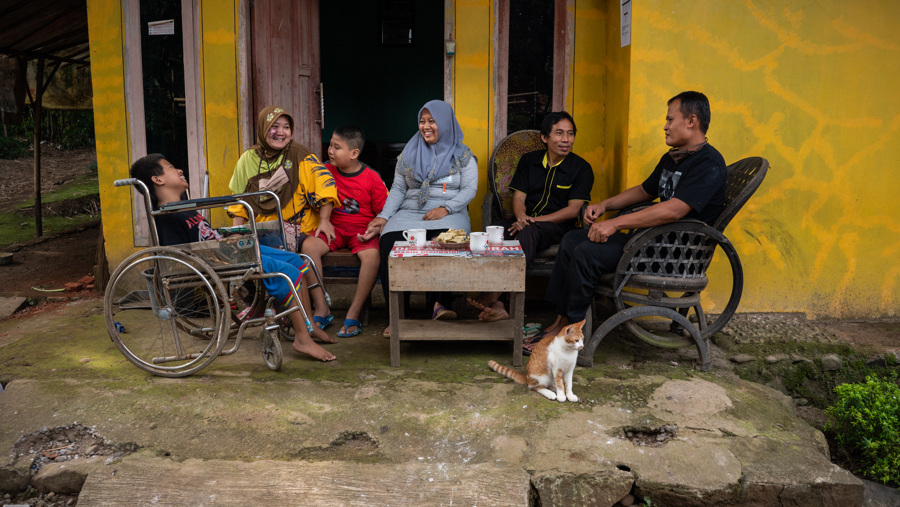 Indonesia: Syaiful (left), 12, a child with a physical impairment, and his parents sit together with his best friend Kevin Saputra, 9, a child with a visual impairment, and his parents in front of Syaiful's house in Banyumas, Central Java. Syaiful cannot freely move his lower body or his right hand.
Both Syaiful and Kevin attend Madrasah Ibtidaiyah Ciberem in Central Java, which is part of an inclusive education programme. Through the project, 13 out of 14 teachers at MI 1 Ciberem have received training and workshops related to inclusive education that have taught them skills, such as how to identify disabilities and learning barriers, develop individual learning plans, modify learning sessions to make them more inclusive and talk to children positively. This has enabled the madrasa to support children with disabilities like Syaiful and Kevin, who often experience difficulties finding inclusive schools in their communities. ©UNI358854/Fauzan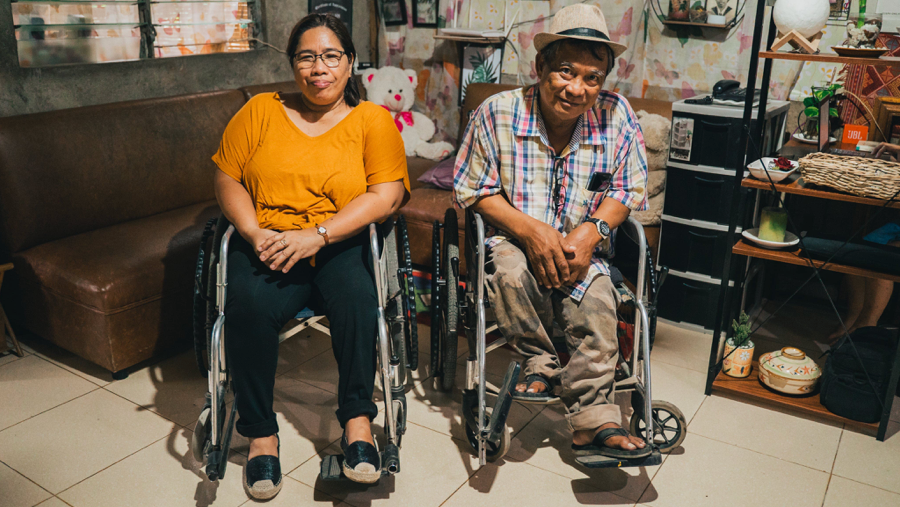 Philippines: Corazon Bajuyo Clarin is the convenor of the Cebu Disability-inclusive Disaster Risk Reduction. Her involvement in DRR began after Typhoon Haiyan hit the country in 2015. She witnessed the experiences of people with disabilities both during and after. A passionate advocate for disability inclusion, she now leads a team of people that provide training to government and public sector workers on how to mainstream inclusivity into disaster preparedness. READ MORE
ONE out of every SEVEN people is
a person with a disability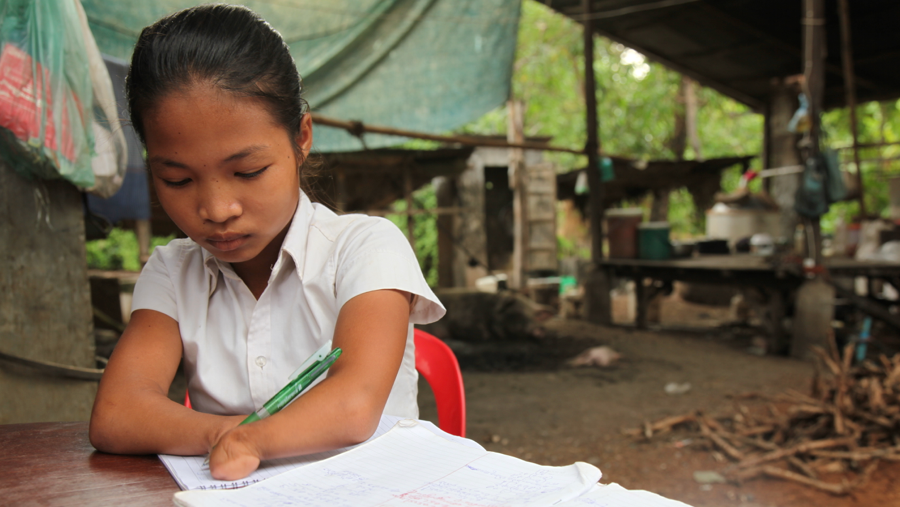 Cambodia: 14 year old, Un Kosal, born with shortened forearms and no hands does not let her disability prevent her from aspiring to be a teacher. In Kampong Thom province disability-inclusive education and WASH facilities at Korsal's primary school enabled her to graduate and she now attends secondary school. ©UNI180578/Galli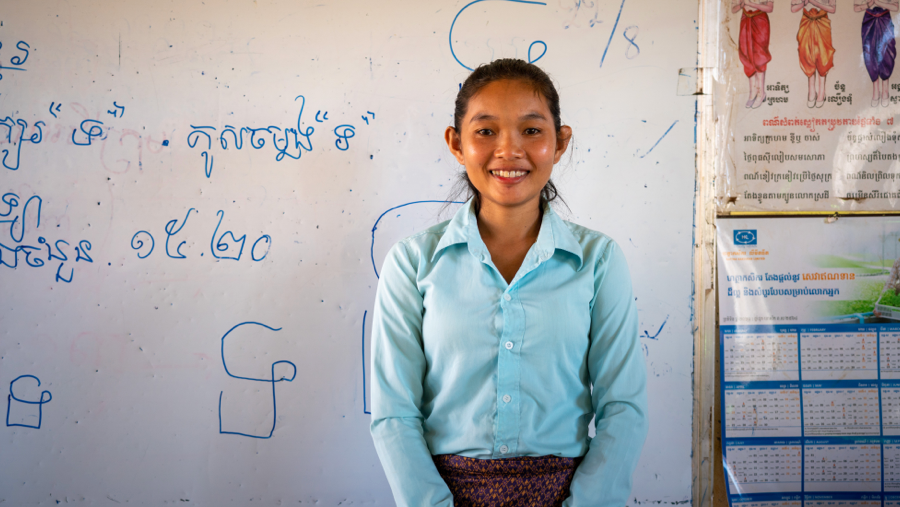 Cambodia: Morn Sambo is a teacher at the village primary school of Trom Village in Laminh Commune. She's received training ©UN0367669/Antoine Raab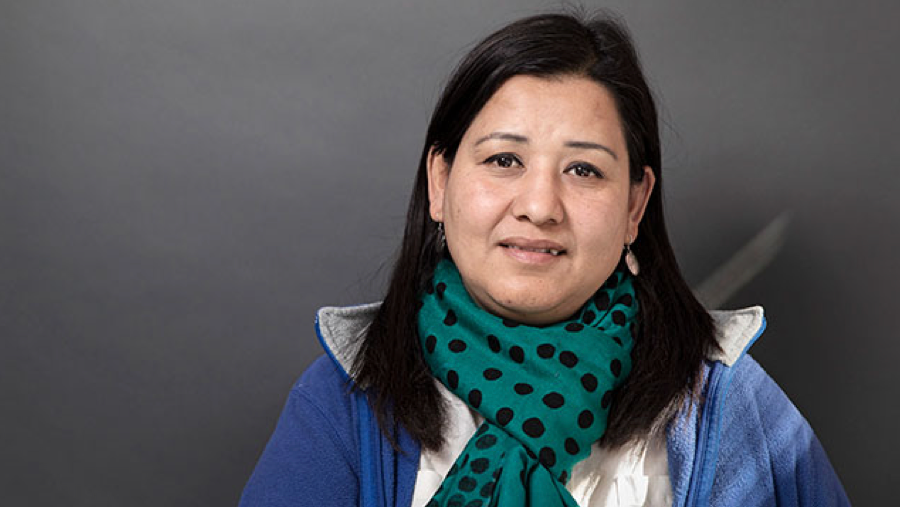 Nepal: "We are not a homogeneous group," says Pratima.  "We are framed in one approach but our needs are diverse."
Pratima Gurung is an intersectional activist from Nepal. She leads the National Indigenous Disabled Women Association Nepal (NIDWAN) and is a faculty member at Padma Kanya College in Kathmandu. During the COVID-19 pandemic she has helped marginalized communities by pushing government to adapt messages and support so everyone can understand and access critical health services."When we see the on-the-ground reality in our communities, most girls and women are not educated," Pratima says. "They are not aware of their rights. They even do not know what their rights are." 
Pratima says it's critical to have women in leadership roles during disasters like the pandemic so they can connect and empower indigenous and women with disabilities. "For us women, our roles are very important in our society," Pratima says. "We have to tell our sisters and tell our daughters to tell our community what their fundamental rights are."
Pratima says that being an outspoken activist and advocate for indigenous and disabled women does come with a determined opposition. "Our country is heavily dominated by the patriarchy," Pratima says. "I've been harassed in the public forum when I speak on behalf of women or when I speak on behalf indigenous peoples." READ MORE
"We are not a homogeneous group. We are framed in one approach but our needs are diverse."
-Pratima Gurung, NIDWAN, Nepal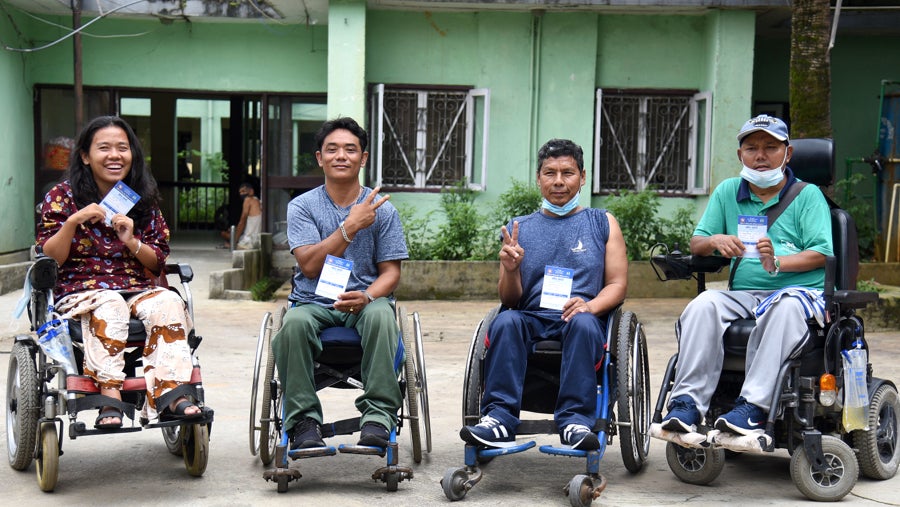 Nepal: At the Nepal Disabled Association Khagendra New Life Centre in Jorpati, Kathmandu, people receive COVID-19 vaccines as part of the country's vaccination campaign.  The Government of Nepal is administering over 1.5 million doses of the vaccine to priority groups including persons with disability. ©UN0490930/Angad Dhakal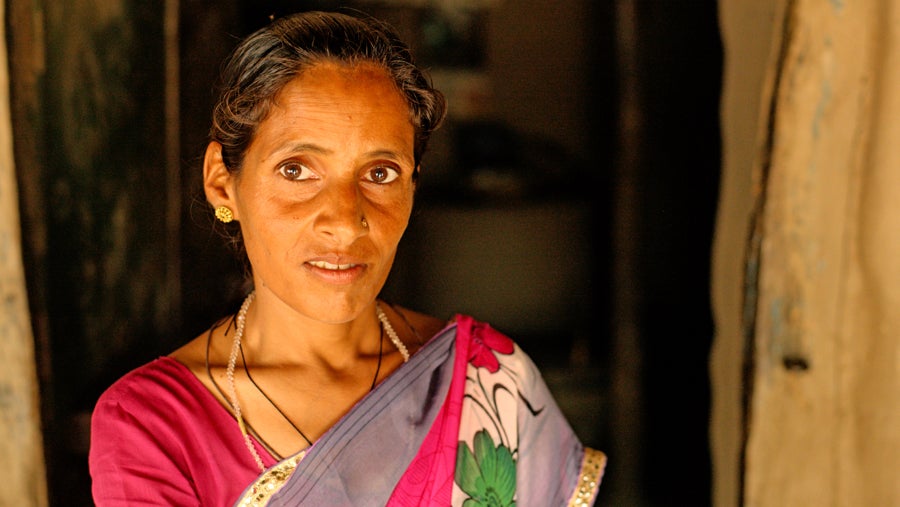 India: Shanta Meena is 25 years and the mother of 5 children. She had to drop out of school in year 9 but now she is equipped with a Smartphone to record family health data for a real time monitoring project to achieve targets set by the government. As a community ennumerator  her responsibilities include conducting regular surveys of all families, providing health and nutrition education to families and identifying disabilities in children so they can be given the right support early on. ©UN/Sri Kolari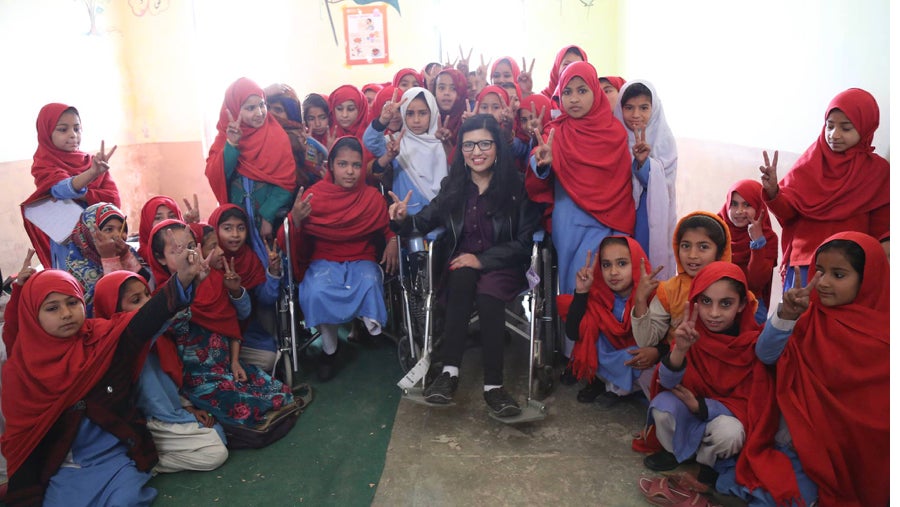 Pakistan: "Disability is just a different lifestyle and I'm very proud of my disability," says Abia. "The question is how we can give that understanding to other persons with disabilities, so they can accept that." Abia Akram is a disability rights activist. She is the founder of the National Forum of Women with Disabilities in Pakistan, and a leading figure within the disability rights movement in the country as well as in Asia and the Pacific.
In 1997 Abia got involved in disabled people's organizations and founded the Ageing and Disability Task Force, which is a coalition of twelve organizations that work for a mainstreaming of concerns around ageing and disability in humanitarian agencies. Abia was the coordinator for the Ageing and Disability Task Force during the 2010 Pakistan floods, making sure that disability inclusiveness was a part of the UN Humanitarian Emergency Response.
Abia says they are able to cross reference flood and community data to target support for people with disability in disasters. "Every year, when it rains the floods often come in the same locations," Abia says. "We started talking to those families about how to evacuate people with disabilities. We put flags on homes where we identified a person with disabilities," she says. "With better systems, when the floods come, they are safely evacuated."
Abia advocates for the rights of persons with disabilities; lobbying with policy makers in the public, private and development sector for inclusion of persons with disabilities in the process. She conducts consultations for the empowerment of persons with disabilities by creating an accessible environment; and promotes accessible information for persons with disabilities from services of health, education and livelihoods. READ MORE
"Disability is just a different lifestyle and I'm very proud of my disability."
-Abia Akram, National Forum of Women with Disabilities in Pakistan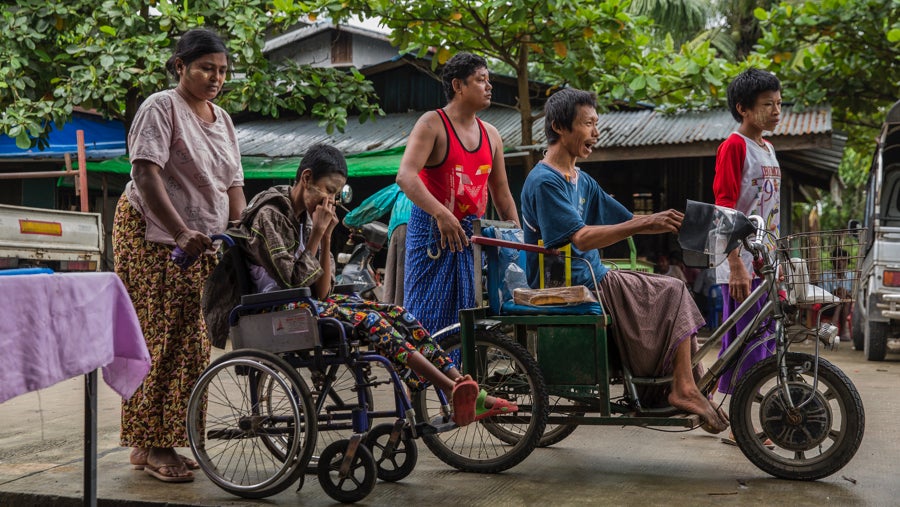 Myanmar: People queuing at the registration of disability ID card at Aung Thu Kha community hall in Yangon before the current unrest. ©UNI218011/Htet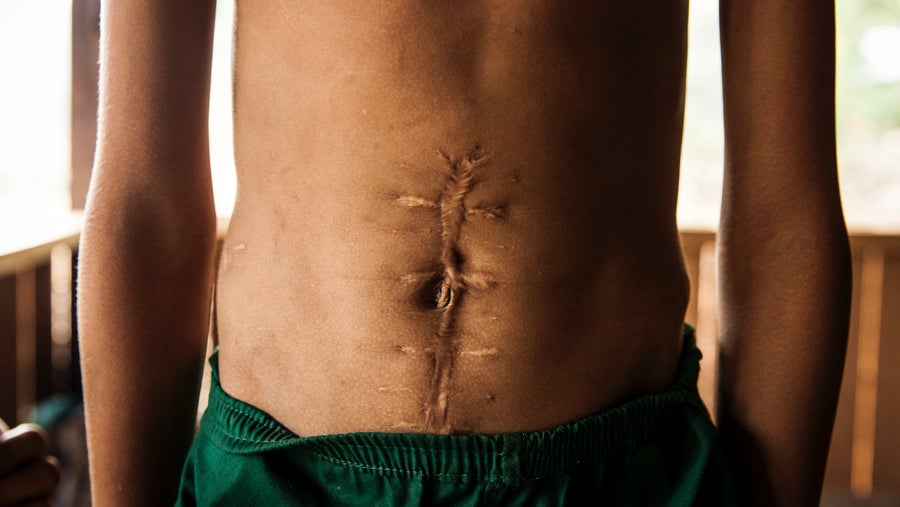 Myanmar: Ten year old Min Thiya shows a scar from injuries he sustained when he and a group of his friends were playing with unexploded ordnance near their home in Kayin state. The explosion that killed his friend So Aung Myo Win instantly and injured four others, including Min. ©UN061805/Brown
Bangladesh: Zinnat Begem is a Rohingya refugee who has lost all her vision in her left eye, has been coming to a Primary Health Centre run by Research Training and Management (RTM) International "Here in Bangladesh (medical care) is free and 100 percent safe," Zinnat says. In Myanmar, Zinnat would never have gone to a health centre/medical centre in Myanmar because she could not afford to seek help and she would have felt unsafe. ©UN0326932/Brown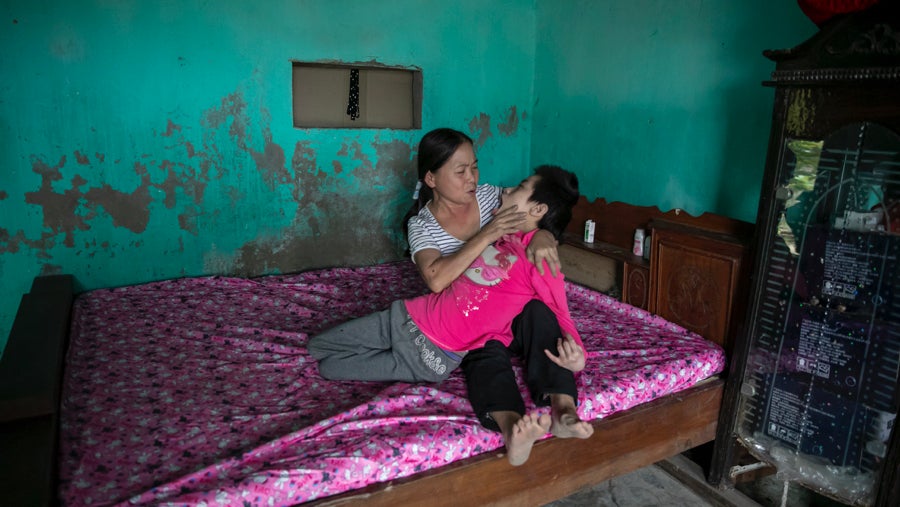 Viet Nam: Ha lives in a rural commune of Ha Tinh province with her disabled 17 year-old daughter, Phuong. As a single mother of a child with a disability, she is unable to work and in the best of times, survives on a modest social benefit, a kitchen garden, and water generously shared by her neighbours.
In 2020 the country was hit by thirteen consecutive tropical storms, causing the worst flooding and landslides in 100 years. Ha's house was flooded waist high over the course of one week of extreme rainfall. A rescue boat was sent by the commune and she managed to carry Phuong into the boat which took them to a local evacuation shelter.  ©UN0366724/Viet Hung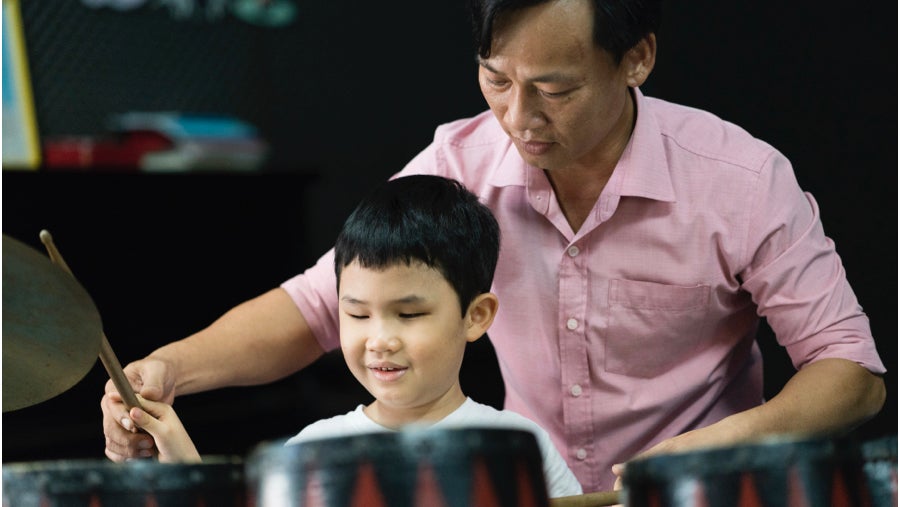 Viet Nam: Seven year old Tung plays the drums with a teacher at the Inclusive Education Resource Center in Da Nang. Tung's mother had heart disease and gave birth to him two months prematurely, which left him visually impaired. Tung attends classes at IERC, where he has learned to read and write in Braille and also to write with stylus on slate. He enjoys playing musical instruments and participating in the centre's music club. ©UNI310402/Sinis VII Photo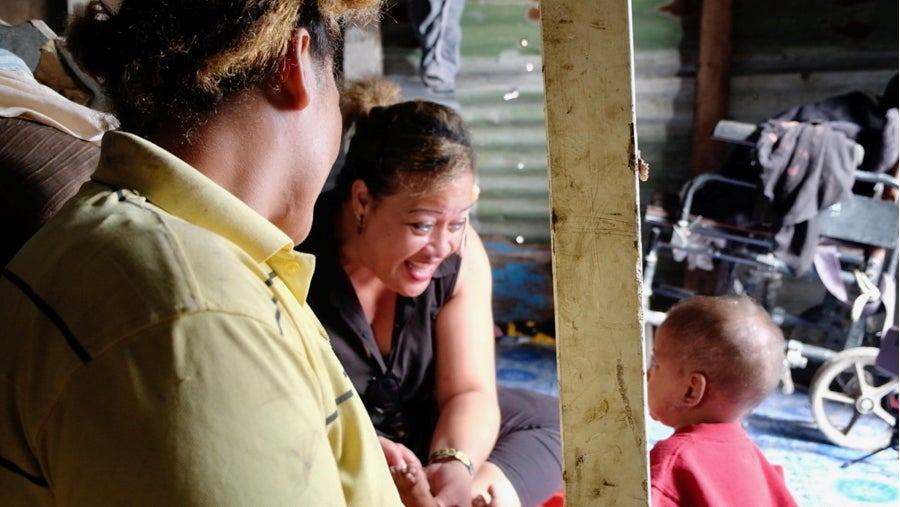 Tonga: Mary works with Ma'a Fafine Moe Famili to support vulnerable mothers and children in Nuku'alofa, the capital of the Kingdom of Tonga. She and her team of community health workers go the extra mile to ensure people with disabilities get the support they need, from physical therapy to a ride to the hospital for health checks. Ma'a Fafine Moe Famili uses a uniquely Tongan, community-focused approach to inclusive early childhood development and women's support, and it's groups like this that play an essential role in disaster relief planning because of their intimate knowledge of how to reach vulnerable people with disabilities. @UNFPA/Rose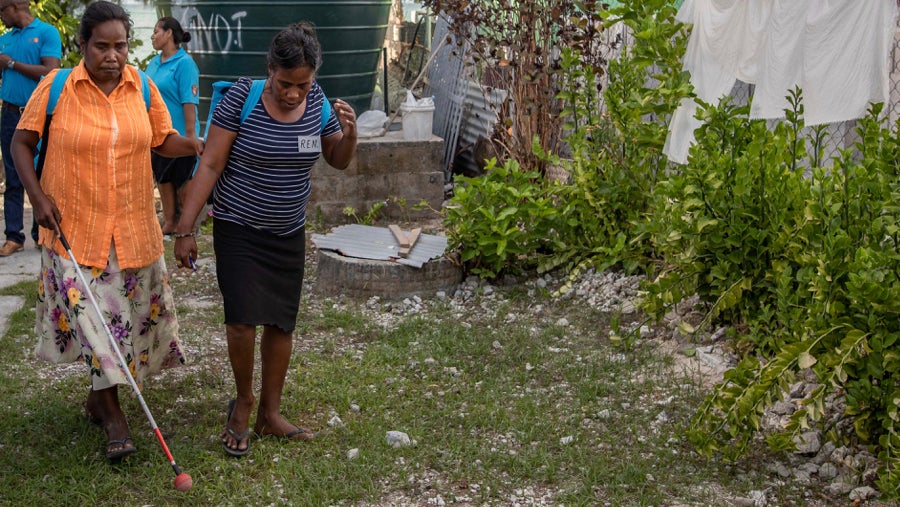 Kiribati: Access and mobility for people with disabilities is already challenging in the Pacific, but it's even harder during disasters and the chaotic aftermath. UNFPA has been able to contribute to the disaster plans for countries like Kiribati by preparing kits that are adapted to the needs of people with disabilities. @UNFPA/Carly Learson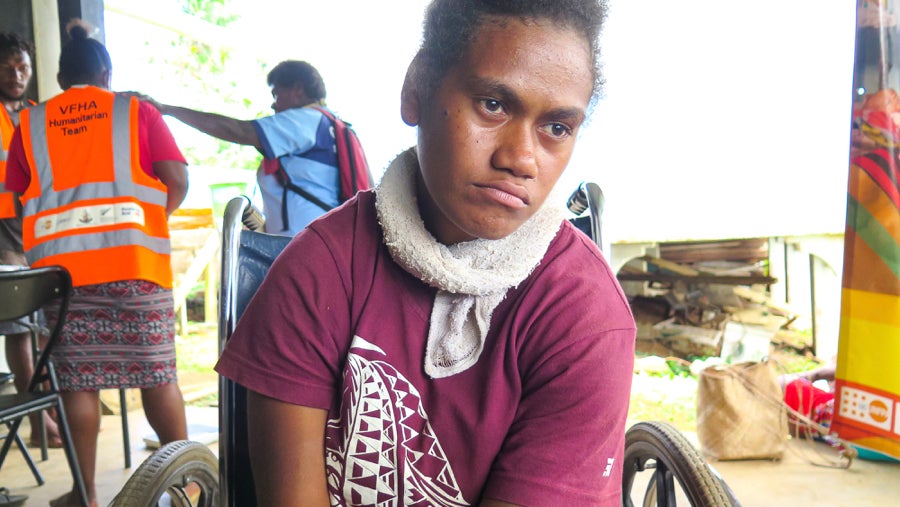 Vanuatu: Tropical Cyclone devastated the island Pentecost in October 2020 leaving communities displaced and health clinics destroyed. UNFPA's work in preparing for disasters in the region meant that response teams were equipped with specially adpated dignity kits to meet the unique needs of vulnerable groups like people with diverse disabilities. The kits were developed with extensive inputs from people with disabilities and include flashlights, ground tarps and information about health services in the response. ©UNFPA/Hawkins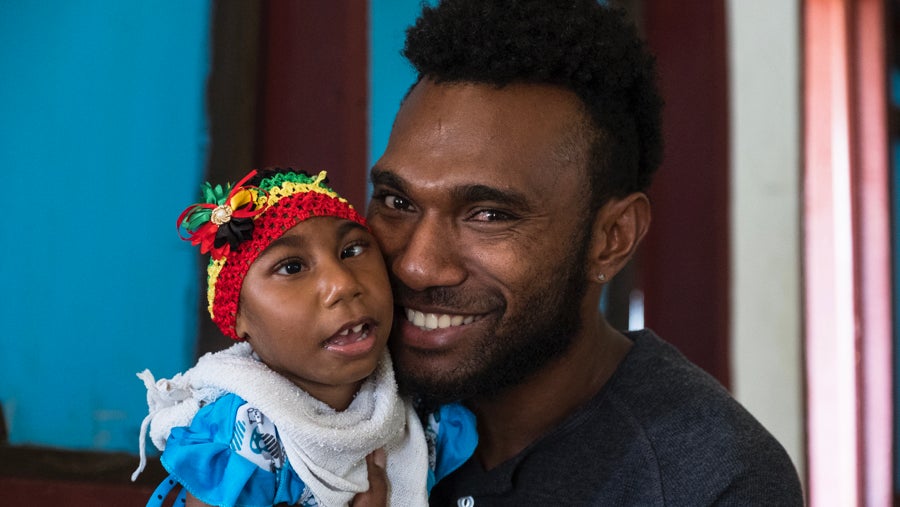 Vanuatu: Flora and her father at theVanuatu Society for People with Disabilities (USPD) in Port Vila. ©UN0224265/Sokhin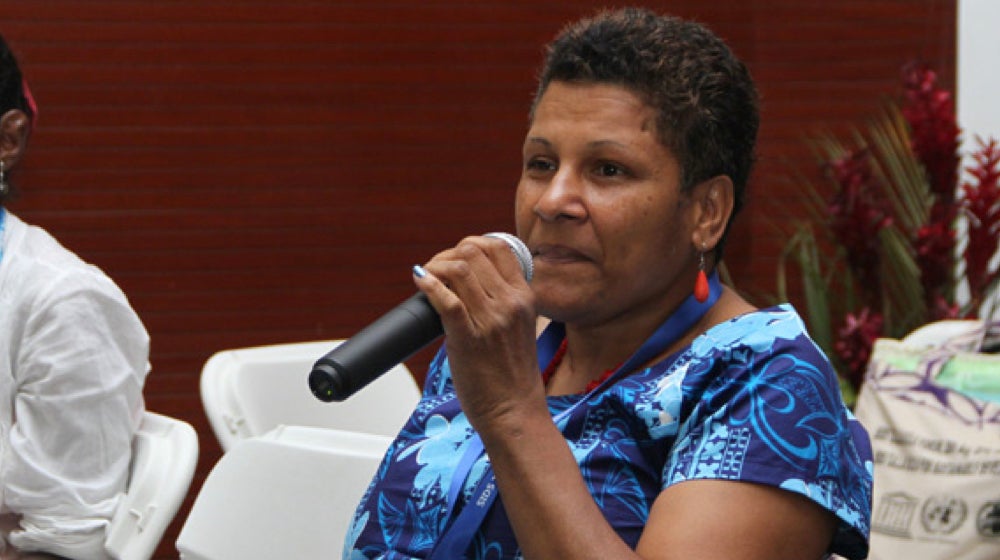 Fiji: Naomi Navoce is a disability inclusion activist and advisor based in Fiji. She played a key role in helping design adapted Dignity Kits for women and girls with disabilities. She is a paraplegic and she has been pushing for change for nearly 20 years. The lessons about customized supplies and a focus on disability inclusion is shaping COVID-19  response and strengthening health systems across the region. READ MORE
"We need to be part of the process from the beginning to the end."
 -Naomi Navoce, Fiji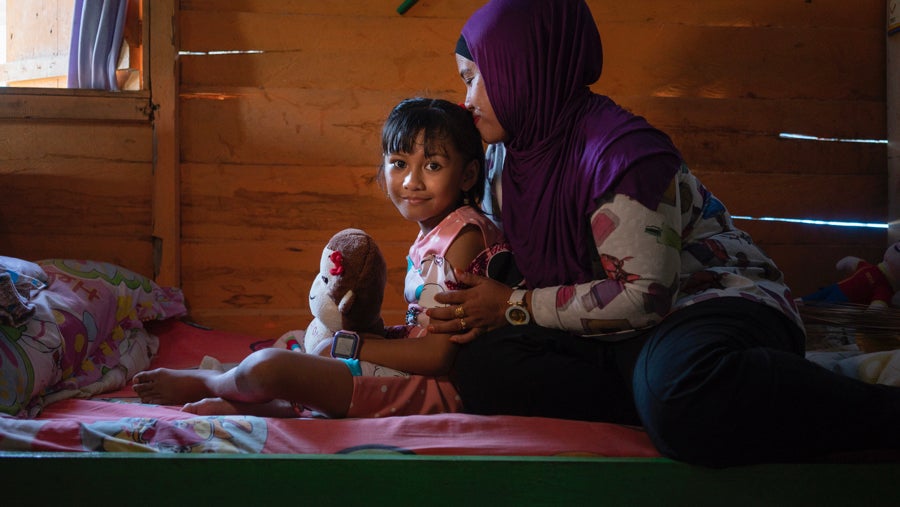 Indonesia: Nine year old Aulia and her mother Darmia Wati in their home in Bone, South Sulawesi Province. Aulia was born with a physical condition that left her paralysed from the waist down. Her 's education is incredibly important to her mother. A collection of Aulia's backpacks hang on the wall, which Darmia saves after Aulia completes each grade.
Before 2015, her school did not accept children with disabilities and would refer them to special needs schools. After receiving training on inclusive education that helped teachers to better understand and involve all children, the school now has ten students with physical and intellectual disabilities. ©UN0368244/Ijazah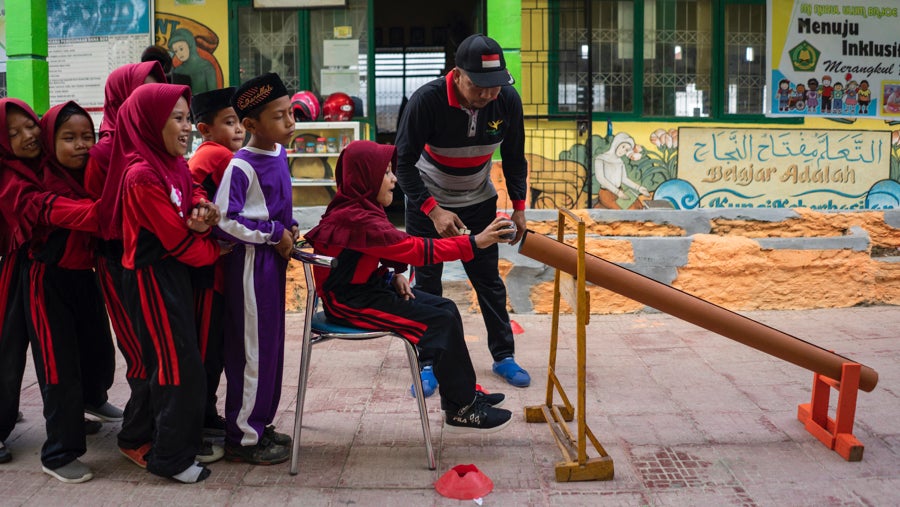 Indonesia: Aulia plays kasti ball in her physical education class in South Sulawesi Province. After attending a training on inclusive education, her teacher Aznar created a device that would allow Aulia to participate in kasti ball with the rest of her classmates. ©UN0368238/Ijazah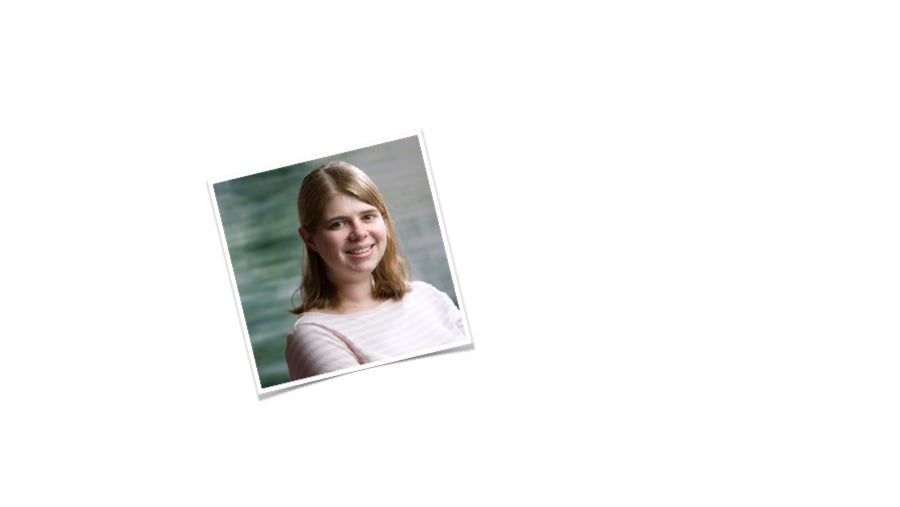 PROFILE: Amanda McRae is the Director of U.N. Advocacy with Women Enabled International, which helped produce the 2018 Guidelines for Providing Rights-Based and Gender-Responsive Services to Address Gender-Based Violence and Sexual and Reproductive Health and Rights for Women and Young Persons with Disabilities. During the pandemic, she has been expanding this research by strengthening an empowered digital network that is driving change in the way governments deliver more inclusive services. READ MORE
"We need to equalize the status for women and young people with disabilities"
-Amanda McRae, Director of U.N. Advocacy with Women Enabled International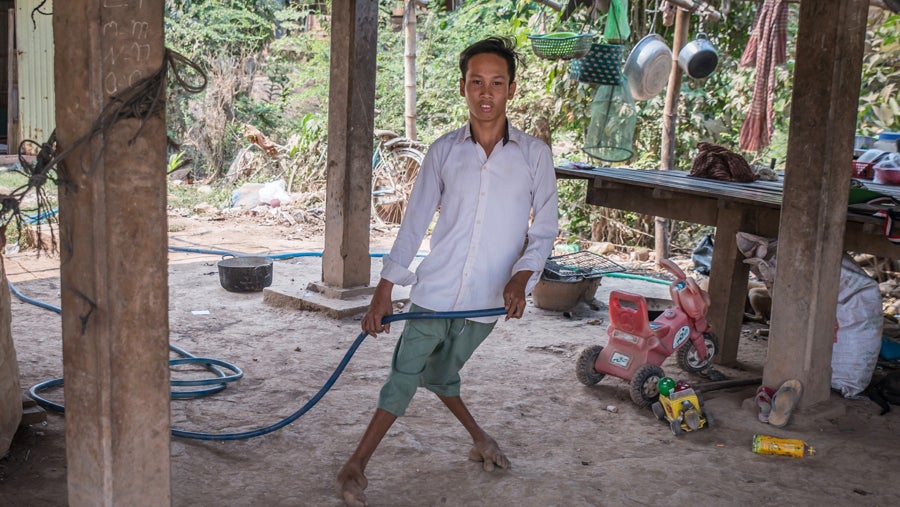 Cambodia: Mut Sokun is 19 years old from Peam Chor District and he has a disability. A project to enable private sector suppliers to connect vulnerable groups means that he has access to clean water in his home, making life easier for his family and saving money by avoiding buying water from local vendors.  ©UN/Fani Llaurado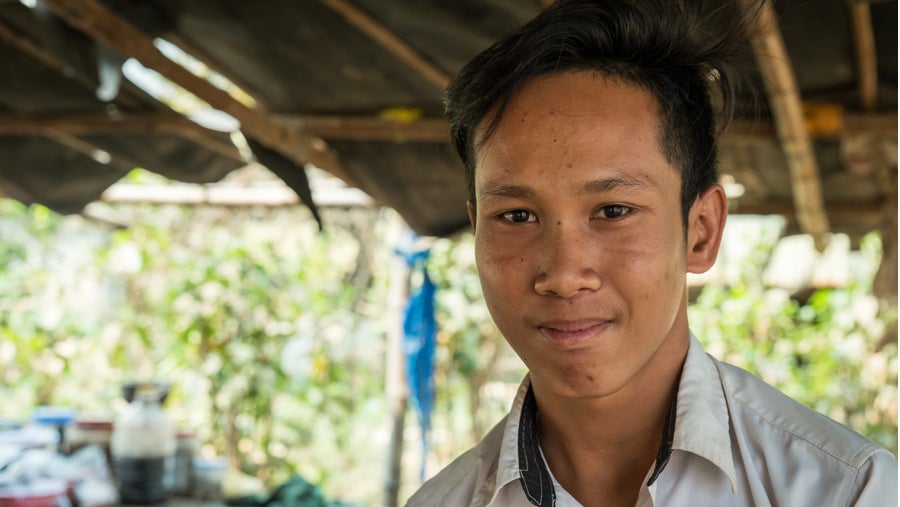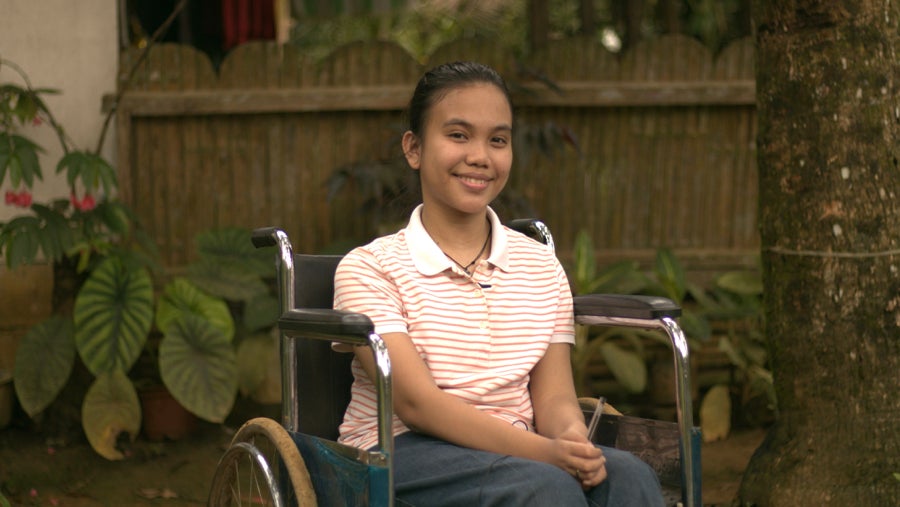 Philippines: Gemma Dumapig is 17 years old year and she's from Polanco in Zamboanga del Norte. She's part of a youth focused program within the Alternative Learning System delivered by the Ministry of Education. ALS is a parallel learning system that provides an option for those outside the formal education system to obtain a high school certificate. ©UN0462733/Shekinah Benitez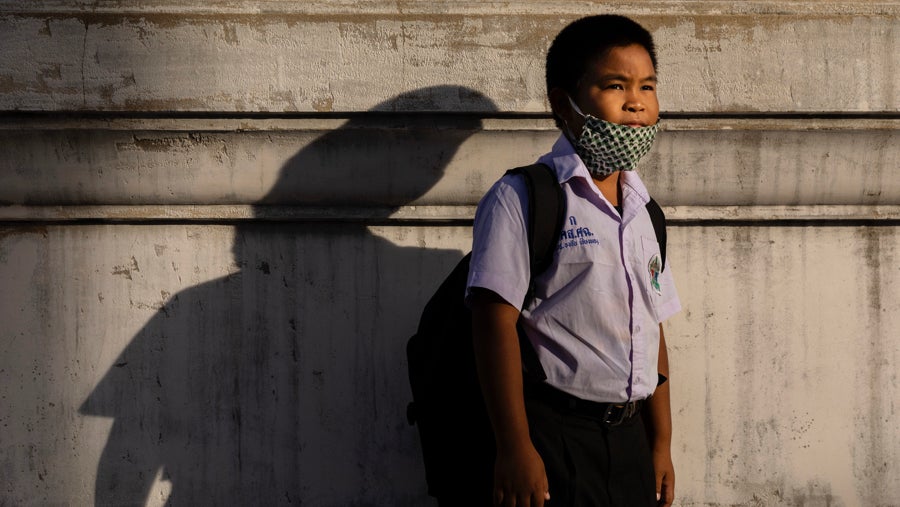 Thailand: Thunwa is ten years old and he's from Bangkok. He dreams of being an astronaut. "I will take my mother to live on Mars with me, I will build a big city where we live and explore the planet Mars together," Thunwa says.
His mother has an intellectual disability and worked as a dishwasher until the cafeteria shut down. It has been a challenge for her looking after her son and relied on donations for food and support from friends. She recently found a job at the convenience store 7/11, where it is her job to take the temperature of customers and offer sanitizer. She earns around 100 Thai baht (approximately $3) per day.
Thunwa wants to make sure his mother is well looked after on Mars. "My mother would work at 7/11 minimart which I built for her. There are also big malls where we could go every weekend. I will protect my planet with Thor's Hammer!"  ©UNI358513/Patrick Brown
Myanmar: A mother spoon-feeds a bowl of rice porridgto her child, who has a disability in Naungkalar Village in Mon State. ©UNI136064/Adam Dean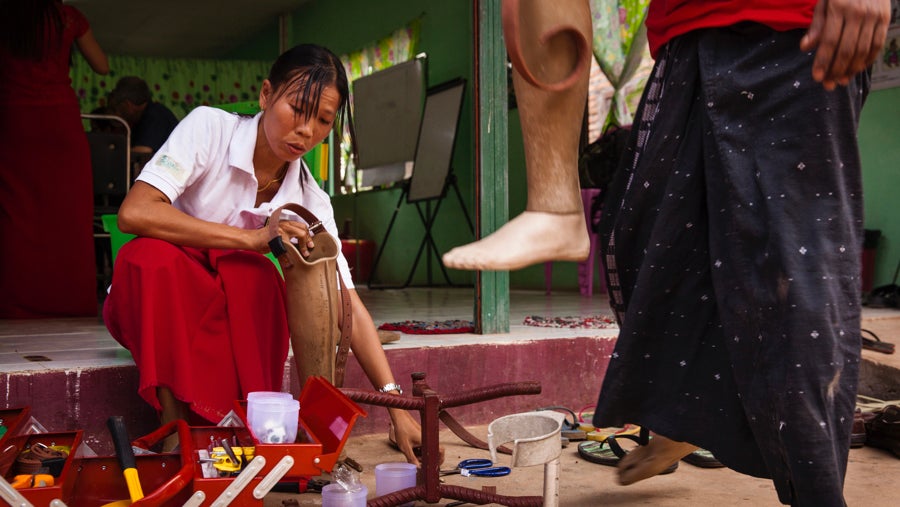 Myanmar: San San Maw, 33, (left) makes repairs to a prosthetic limb belonging to one of the centre's customers at the Mine Victim Assistance Centre where she volunteers in Kawkareik, Kayin State. San San Maw is one of 30 volunteers working at the Centre. She lost her right leg when she trod on a landmine at the age of 13 while cutting bamboo on a mountain side. "Here we do minor repairs and adjustments for people with prosthetic limbs," says Ms. Maw. "But my main reason for volunteering is to give other victims encouragement in the same way I needed encouragement after my accident." According to Landmine Monitor, Myanmar has the third highest number of annual landmine casualties in the world, with an estimated 5 million residents currently living in areas clogged with the hidden weapons. ©UN061800/Patrick Brown
Mongolia: A boy with a hearing impairment smiles at General Education School #3 in Gobi-Altai province. The Mongolian government has integrated young people with disabilities into general education classrooms because teachers have received special education training, adapted school materials and modified school furniture. ©UN0255415/Pasquall
Learn more
The Impact of COVID-19 on Women and Girls with Disabilities
COVID-19 and Persons with Disabilities: Key Messages
Standing up for the rights and choices of people with disabilities
We Decide: Including and empowering persons with disabilities
Women and Young Persons with Disabilities: Guidelines for Providing Rights-Based and Gender-Responsive Services to Address Gender-Based Violence and Sexual and Reproductive Health and Rights for Women and Young Persons with Disabilities
Committee on the Rights of Persons with Disabilities
United Nations Disability Inclusion Strategy