The 2018 International Youth Day theme is 'Safe Spaces for Youth', dedicated to ensuing the dignity and safety of youth. It's widely acknowledged that youth need safe spaces where they can come together, engage in activities related to their diverse needs and interests, participate in decision--making processes and freely express themselves. 
There are several types of safe spaces, such as civic spaces that enable youth to engage in governance issues; public spaces that afford youth the opportunity to participate in sports and other leisure activities in the community; digital spaces that help youth interact virtually across borders globally; and well-planned physical spaces can help accommodate the needs of diverse youth especially those vulnerable to marginalization or violence, as well as those displaced or otherwise impacted by disasters and conflict.
For this year's International Youth Day, the Interagency Task Team on Young Key Population (IATT YKP) and Thematic Working Group on Youth Peace & Security (TWG YPS) would like to share inspiring stories from select young people across Asia-Pacific on their struggles and commitments on working in the fields of sexual and reproductive health and rights, young key populations, comprehensive sexuality education, humanitarian response, and youth, peace and security - all in connection with safe spaces.
Melboy Bulan is a 23-year-old peer educator and public servant from the Philippines. He currently handles programmes on adolescent sexual and reproductive health, youth participation in disaster risk reduction and other youth programmes of the Provincial Government of Leyte. He has several other national youth engagements with government, the UN and CSOs such as the National Youth Parliament- Batch 11 and IOM - Traffic JAM project advocating to stop human trafficking, and is a board member of Y-Peer Philippines. Melboy represented the Y-Peer youth network at the Asian Ministerial Conference on Disaster Risk Reduction (AMCDRR) 2018 in Mongolia, where he was able to claim a space to amplify youth voices in humanitarian response.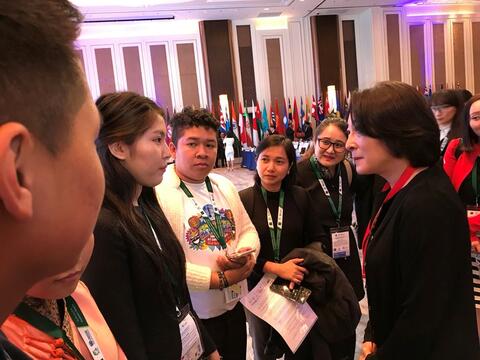 Melboy Bulan and youth participants at AMCDRR 2018 in Mongolia
My story begins in 2013 when Super Typhoon Haiyan, possibly the strongest typhoon ever recorded, made landfall in Eastern Visayas - my home. My family lost all material possessions. Those were the days of uncertainties. We had no food, clean water, shelter and sustainable livelihoods. Most of all, I felt that the tragedy robbed me of my future.
But I never faltered as I carried on with the inspiration drawn from a hero I've always looked up to – the legendary Dr. Jose Rizal who said "Young people are the hope of our motherland".  I lived this mantra and was armed only with courage and faith to help my family rise up from the rubble. Then there came an opportunity for me to participate and enhance my skills to be really involved in helping my community "build back better."
It was through the training with UNFPA Philippines and Y-PEER Pilipinas on Adolescent Sexual Reproductive Health in Emergencies that I was equipped with the right capacities for a young person to contribute in building resilience. I became a youth volunteer in the Office of Civil Defense as DRR Youth Focal point where I was in charge of capacitating other young people on DRR. We were able to rebuild our homes and communities through the help of numerous organizations, UN and government aid agencies, and other forms of support from our fellow Filipinos.
As young humanitarian workers, we placed emphasis on the continuous commitment of governments, the private sector, and United Nations to invest on lifesaving interventions during emergencies including the Minimum Initial Service Package or MISP; children, youth, and women friendly spaces; and disaster resilient social infrastructures such as hospitals, health stations, evacuation centers, classrooms and WASH facilities.
After my experience in DRR and building resilience since 2013, I recently participated in the 2018 Asian Ministerial Conference on Disaster Risk Reduction (AMCDRR) where I shared my story. This was a dream-come-true as it was my first time to step foot outside my country, and more importantly, that I was able to bring in the youth voice and my experience on youth participation in DRR at a high-level event. Another factor is that I got the chance to meet government leaders and fellow youth from other countries and learn from their experiences.
My experience, as well as that of all other young people present at the conference, is a concrete example of youth participation in Disaster Risk Reduction. This experience reminds me of the importance of providing spaces for young people. These spaces become the start of a holistic approach to the development of society by making sure that no one is left behind.
My training and experience were possible because of the safe spaces provided for young people to participate, a space allowing us to freely express ourselves in various ways which may not always be acceptable in the conservative societies many of us live in. Such a space allows us to discuss issues we face that affect us the most and are crucial for development and building resilience, such as LGBTI rights, sexual and reproductive health, and addressing gender-based violence.
Children and youth are often identified as a vulnerable group especially in times of disaster, but we are changing this narrative. As we participate in events like AMCDRR 2018, we claim our space as active members of society in building resilience in the local and international community.
My story began with being devastated by a typhoon but eventually I was empowered through opportunities and avenues for me to participate in ways that allowed me to take charge of my own life and contribute to the well-being of others.
Let us all act in creating more safe spaces for young people to build their resilience and reach their full potential.