SEOUL, Republic of Korea, 13 January 2019 — UNFPA, the United Nations Population Fund, is strengthening its longstanding relationship with the Republic of Korea by opening a liaison office in Seoul. The new office will facilitate even closer cooperation on global population and development matters, including sexual and reproductive health and rights, population ageing and humanitarian response. 
Collaboration between UNFPA and the Republic of Korea goes back to 1974 when UNFPA helped the government in the area of population policy and planning, including rights-based family planning, population surveys and using data for sustainable development.
"This is a very auspicious moment for UNFPA, as we mark our 50th year as the United Nations sexual and reproductive health agency, promoting rights and choices for all. UNFPA has long been proud of its special relationship with the Republic of Korea, and our new liaison office will strengthen this important partnership," said UNFPA Executive Director Dr. Natalia Kanem.
"As a developing country in the 1970s, the Republic of Korea made crucial investments in health, family planning, education and women's empowerment, spurring a significant demographic dividend," added Dr. Kanem. "Now, it is sharing its wealth of experience, resources and best practices to support developing countries in Asia-Pacific and globally. UNFPA looks forward to enhancing our engagement with the Republic of Korea on sexual and reproductive health, population ageing and other issues, and to contributing together to a world of health, rights and choices for all ages across the life cycle."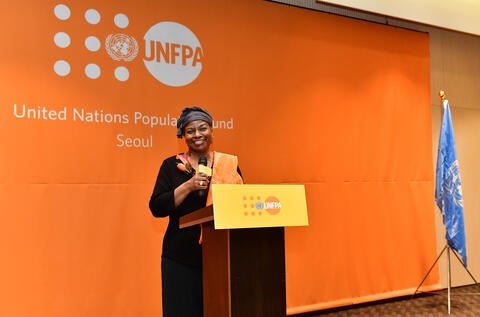 The UNFPA liaison office will be based at the Yonsei University campus in Seoul, which allows for an exchange of expertise between UNFPA and this noted academic institution in the fields of health care, women's rights and development. The office will also liaise with various government ministries and institutions, as well as South Korean civil society organizations, the private sector, media and other stakeholders.
In welcoming remarks at the opening ceremony on February 13, Dr Yong-Hak Kim, President of Yonsei University, stated, "Yonsei University is honoured to welcome the UNFPA liaison office on our campus and we look forward to forging a stronger partnership between our two organizations."
"In a country that has experienced significant shifts in population dynamics, I believe that the UNFPA office in Seoul will play an important role in facilitating research on low fertility," said Mr. Kang-Ho Lee, Director-General, Bureau of Population and Child Policy at the Ministry of Health and Welfare. "Many countries including South Korea are experiencing the challenge of low birthrates, so at this point the opening of the UNFPA office has great implications for us. Through this office, Korea's population policies and best practices could be shared.  Our government will give full support and expect even stronger cooperation between Korea and UNFPA."
This year marks UNFPA's 50th anniversary, as well as the 25th anniversary of the Programme of Action stemming from the 1994 International Conference on Population and Development (ICPD), the revolutionary agreement that placed human rights and individual choice at the heart of sustainable development.
The Republic of Korea was one of the 179 countries that adopted the ICPD Programme of Action, seeing it as key to socio-economic advancement. The country continues to strongly support the vision enshrined within the Programme of Action, whose success is essential to fulfilling the 2030 Agenda for Sustainable Development.
"We are grateful to UNFPA for the good work it has done and applaud the great accomplishments it has achieved in the past five decades," His Excellency Jeong-Sik Kang, Deputy Minister of Foreign Affairs of the Republic of Korea, said.
"Last year, my government launched a new initiative called 'Action with Women and Peace,' targeting victims of sexual violence during and after armed conflicts. Under the initiative, UNFPA and Korea are collaborating, and my government will continue to work together with UNFPA to fulfill the promise of the Cairo Programme of Action and achieve the 2030 Sustainable Development Goals in the fields of reproductive health and gender equality."
***
For more information, please contact:
Sae-Ryo Kim, email: sakim@unfpa.org; mobile: +82-10-9291-5338
UNFPA is the United Nations sexual and reproductive health agency, ensuring rights and choices for all