US$ 13 million urgently needed to meet rapidly growing needs amid a massive humanitarian crisis
12 September 2017, Dhaka - As thousands upon thousands of desperate Rohingya civilians continue to cross into Bangladesh from neighbouring Myanmar, the United Nations Population Fund (UNFPA) is urgently seeking US$ 13 million to provide lifesaving reproductive health and gender-based violence response services to women and girls who currently constitute almost 70 percent of the arrivals.
From 25 August until now, 313,000 people are estimated to have crossed the border into Cox's Bazar District, more than doubling the Rohingya population there over the span of just two weeks and still increasing day by day - overwhelming existing camps and settlements as well as host communities and relief agencies.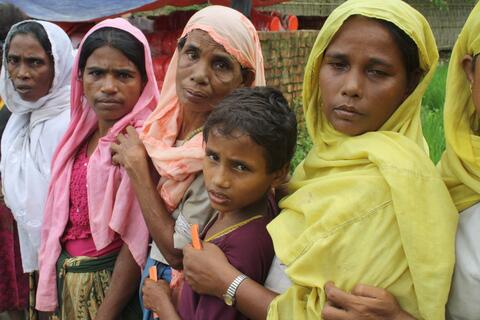 Rohingya civilians from Myanmar's Rakhine State have fled to Bangladesh by the tens of thousands (Image: UNFPA Bangladesh)
Desperate need, lifesaving response
Among the arrivals so far, an estimated 110,000 are women of reproductive age (15-49 years). There are around 40,700 pregnant and lactating women and girls among the new arrivals. As in any humanitarian emergency, the risk of gender-based violence increases significantly as well.
"Women do not stop getting pregnant or having babies just because an emergency hits," noted Iori Kato, Acting Representative of UNFPA Bangladesh. "Among the UN family, UNFPA takes the lead for sexual and reproductive health as well as gender-based violence response, a responsibility we take very seriously."
UNFPA has already deployed midwives trained in humanitarian response to complement midwives and other personnel who had already been serving in Cox's Bazar. These midwives are attending to the medical needs of pregnant women, mothers and their newborns, delivering babies and providing emergency obstetric care. They are also looking after survivors of sexual violence as necessary, utilizing their expertise in the clinical management of rape.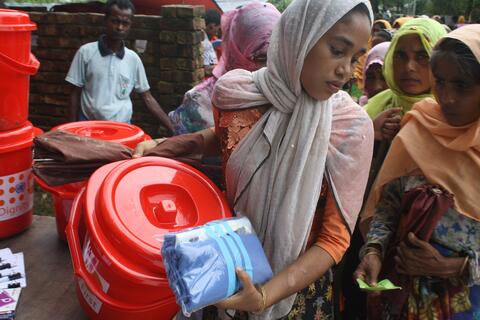 UNFPA's trademark Dignity Kits are being distributed to thousands of Rohingya women and girls in Cox's Bazar (Image: UNFPA Bangladesh)
Clean Delivery Kits, Dignity Kits, Women Friendly Spaces
"The women who are coming for check-ups all have a terrified and exhausted look," said Sumaya, a UNFPA-supported midwife posted in the Nayapara refugee camp. "We keep hearing stories from them of walking through jungles and across hills for days without food, their children carried over their shoulders. They've lost their homes."
UNFPA's Clean Delivery Kits contain essential supplies for child delivery and post-natal care. UNFPA's Dignity Kits, being distributed in the thousands, include clothing, personal hygiene items and a flashlight so that women and girls can more freely and safely access lifesaving supplies including food, water and medicine. And UNFPA's Women Friendly Spaces provide a safe place for women and girls to receive referral services as necessary, along with psychosocial support and counselling as well as professional case management for gender-based violence.
"Because of this safe space, I rested and was able to breastfeed my children," said one woman who availed of a Woman Friendly Space. "I lost my husband and one child. Here I've received mental health support, and have a place to talk about my suffering on this journey. This is a place of peace for women like us."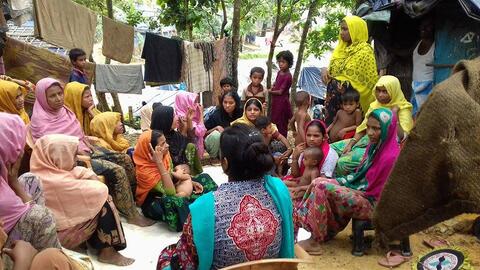 UNFPA Bangladesh has established Women Friendly Spaces for Rohingya civilians from Myanmar (Image: UNFPA Bangladesh)
Scaling up UNFPA's response now and in the long term
So far, UNFPA's services have only been able to address a portion of the continuously expanding needs of Rohingya women and girls entering Bangladesh.
"The magnitude of these needs is immense, and growing," noted UNFPA's Iori Kato. "Now, more than ever, we must be able to scale up our interventions to meet them. The US$ 13 million in funding we are requesting will allow us to carry out our wide-ranging responsibilities through August 2018. We thank our donors for their crucial support now and in the future."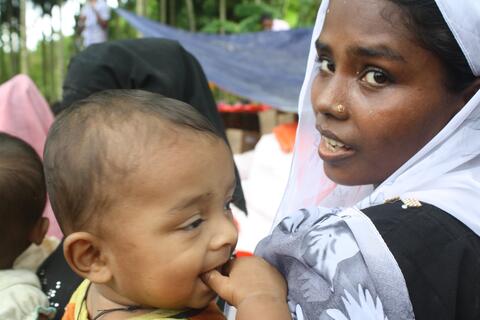 More than 300,000 Rohingya civilians have fled Myanmar for Bangladesh since August 25, 2017; almost 70 percent of these are women and girls (Image: UNFPA Bangladesh)
For more information, contact: Rachel Tze, UNFPA Bangladesh Communications Officer: tze@unfpa.org / +880 177 978 4860