On August 25, 2017, the long-running Rohingya refugee crisis escalated dramatically.  Horrific violence in Myanmar's Rakhine state has triggered a desperate exodus of unprecedented scale to neighbouring Bangladesh.
By the end of January 2018, almost 700,000 new arrivals were registered in the sprawling refugee camps in Cox's Bazar where UNFPA and other partner agencies have been providing humanitarian services amid daunting circumstances, in partnership with the Bangladesh government and local authorities, and with funding and other crucial support from a number of countries and other donor entities. 
As the ongoing phase of the Rohingya crisis hits the six-month mark, here's a look back - and a look ahead -- at UNFPA's response with a focus on the special needs of women and girls, many of whom have lost their families and suffered unimaginable violence, including sexual assault. 
You can assist our crucial efforts by donating securely through our partner NGO, Friends of UNFPA and their specific Rohingya crisis appeal, or our global website's overarching donation page http://www.unfpa.org/donate.
Lifesaving health services and a response to sexual and other gender-based violence
UNFPA's humanitarian aid includes medical and psychosocial support for survivors of violence; the deployment of midwives and lifesaving care provided through reproductive health kits to ensure safe pregnancy, childbirth and post-natal care for women who need it; women-friendly spaces where women and girls feel safe and supported; dignity kits with essential health and hygiene items, along with clean clothes, for women and girls; and close coordination with child-friendly services and other support offered by partner agencies to ensure a continuum of care for refugees across Cox's Bazar District.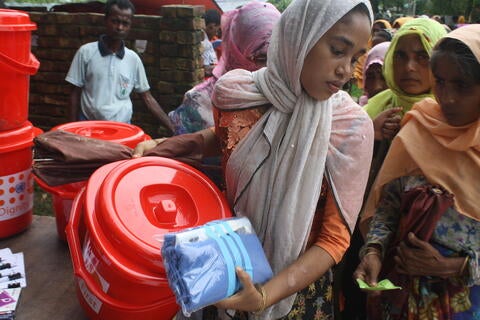 UNFPA's trademark Dignity Kits being distributed to Rohingya refugee women in Cox's Bazar, Bangladesh, September 2017. Image: UNFPA Bangladesh/Fathema Sultana
For further details about our specific interventions, please visit UNFPA Bangladesh : https://bangladesh.unfpa.org/rohingya-crisis
Empowering Rohingya girls seeking refuge in Bangladesh
International journalist Veronica Pedrosa served as UNFPA surge communications consultant in Cox's Bazar during the initial phase of our humanitarian response in the final quarter of 2017.  She filed several dispatches from the field, including the one below.
At the Leda refugee camp in Bangladesh, close to the border with Myanmar, thousands upon thousands of Rohingya refugees can look across the paddy fields and see the country where they were born.  More than 240,000 of the entire influx of over 500,000 Rohingya refugees so far are children and as I entered the camp after a storm, a crowd followed me splashing through puddles in the makeshift road, curious about my camera and to find out what I was doing there.
These particular children varied in age from about 7 years to 16 years, girls appeared to mix easily with boys, though even a cursory observation reveals that everyone tells the girls to get out of the way.  It's like they're at the very bottom of a hierarchy based on Darwinian principles.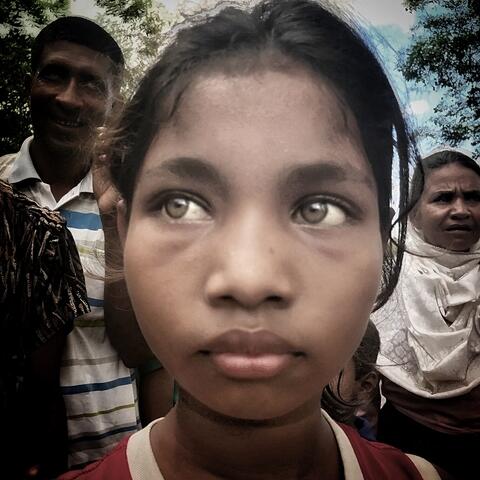 Image: UNFPA Bangladesh/Veronica Pedrosa
Read the full story here: https://asiapacific.unfpa.org/en/news/empowering-rohingya-girls-seeking-refuge-bangladesh
Where men can't go
Enter with respect and curiosity, and you will be richly rewarded, but only if you're a woman.  Sorry men, but this is one of UNFPA's Women Friendly Spaces and men aren't welcome. Let me tell you about this one at the Shamlapur Rohingya refugee camp near Cox's Bazar in Bangladesh and explain what these spaces are all about, so you can understand their special power.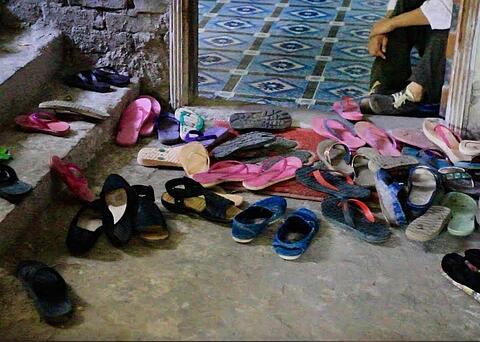 Shoes outside the entrance to a UNFPA Woman-Friendly Space in Cox's Bazar.  Image: UNFPA Bangladesh/Veronica Pedrosa
Read the full story here: https://asiapacific.unfpa.org/en/news/where-men-cant-go
Watch the companion video "Women and Girls First" here: https://www.youtube.com/watch?v=IyjXDM30G8g
Help save Rohingya women and girls: A plea to our donors, a plea to our world
At the multi-country ministerial-level Rohingya crisis pledging conference in Geneva in October 2017, UNFPA issued an urgent appeal for funding and other resources to meet the special needs of refugee women and girls in the crowded, desperate camps of Cox's Bazar. This was the short but powerful editorial from UNFPA's Executive Director, Dr Natalia Kanem, published by our media partner Thomson Reuters Foundation just ahead of the conference.
When Shakila arrived at a UNFPA Women Friendly Space in Cox's Bazar, Bangladesh, she was exhausted and traumatized. Having fled the violence in Myanmar's Rakhine State, the 36-year-old Rohingya refugee needed urgent treatment for the sexual violence she had suffered, exacerbated by the harrowing journey by foot over treacherous terrain. UNFPA-trained personnel tended to her physical wounds, but the emotional scars from seeing her husband and baby girl killed in front of her will be harder to heal.
Read the full op-ed at the Thomson Reuters Foundation website: https://news.trust.org/item/20171020103131-0bvof/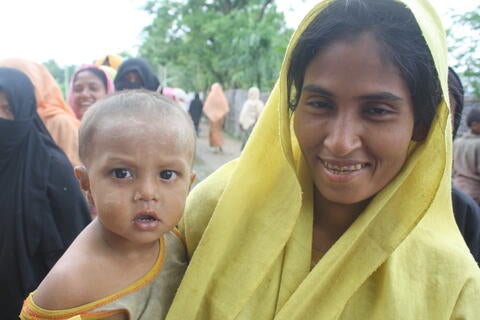 PLEASE SUPPORT UNFPA'S LIFESAVING RESPONSE TO THE ROHINGYA CRISIS!