On August 25, 2017, and in the days, weeks and months that followed, violence in Myanmar's long-troubled Rakhine State triggered an exodus of Rohingya people to Cox's Bazar District in neighbouring Bangladesh.
Since then, some 700,000 women, men and children have fled their homeland, the majority in the first six weeks alone, adding to the 200,000 Rohingya refugees already in Bangladesh from previous years.
More than half of the refugees are women and girls. UNFPA Bangladesh has been providing lifesaving support, with the generous support of donor governments and in close collaboration with Bangladeshi authorities and the host communities of Cox's Bazar.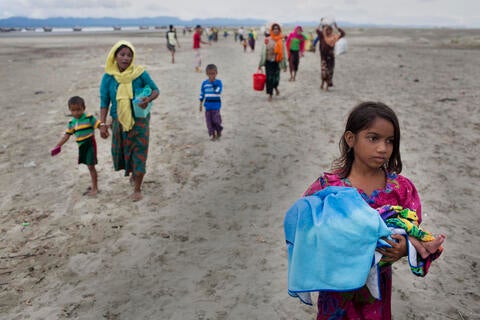 Image: UNFPA Bangladesh/Naymuzzaman Prince
Our humanitarian interventions closely parallel the Three Transformative Results embedded in our global Strategic Plan: Zero maternal deaths, zero unmet need for family planning and zero gender-based violence and other harmful practices against women and girls, including child marriage. 
Accordingly, we provide services aimed at ensuring safer pregnancy and childbirth; preventing and responding to gender-based violence; assisting women to avail of contraception and other family planning services so they can choose if and when to have children; addressing child marriage and the trafficking of young girls; and working with young persons on life skills to provide comprehensive sexuality education, inculcate gender equality and a respect for diversity and inclusion, and address the roots of violence against women at a young age.
Here's a look at some of our key interventions over the past year - as well as the work that lies ahead in this protracted crisis which, for now, has no end in sight.
http://bangladesh.unfpa.org/en/news/rohingya-crisis-looking-back-looking-ahead