The 2018 International Youth Day theme is 'Safe Spaces for Youth', dedicated to ensuing the dignity and safety of youth. It's widely acknowledged that youth need safe spaces where they can come together, engage in activities related to their diverse needs and interests, participate in decision--making processes and freely express themselves. 
There are several types of safe spaces, such as civic spaces that enable youth to engage in governance issues; public spaces that afford youth the opportunity to participate in sports and other leisure activities in the community; digital spaces that help youth interact virtually across borders globally; and well-planned physical spaces can help accommodate the needs of diverse youth especially those vulnerable to marginalization or violence, as well as those displaced or otherwise impacted by disasters and conflict.
For this year's International Youth Day, the Interagency Task Team on Young Key Population (IATT YKP) and Thematic Working Group on Youth Peace & Security (TWG YPS) would like to share inspiring stories from select young people across Asia-Pacific on their struggles and commitments on working in the fields of sexual and reproductive health and rights, young key populations, comprehensive sexuality education, humanitarian response, and youth, peace and security - all in connection with safe spaces.
Kefan Yang is an activist campaigning for the rights of ethnic minorities and other marginalized groups, especially religious and ethnic minority children, youth and women who are subject to drug use and living with HIV. Kefan himself is from the Dai (Tai Lüe) ethnic minority group from Xishuangbanna in southwestern China, bordering Laos and Myanmar. He has worked on ICT and Innovative Education for the UNESCO Regional Office for Eastern Africa. Prior to this, he worked for UNESCAP on Strategic Communications and the ILO Regional Office for Asia and the Pacific on Gender Equality and Non-discrimination. Kefan holds a Master of Science degree in Media, Communication and Development from the London School of Economics (LSE). While studying in the UK, Kefan received an Honorable Leadership Award for the 2015 LSE Faith and Leadership Initiative, presented by HRH The Prince of Wales at Clarence House.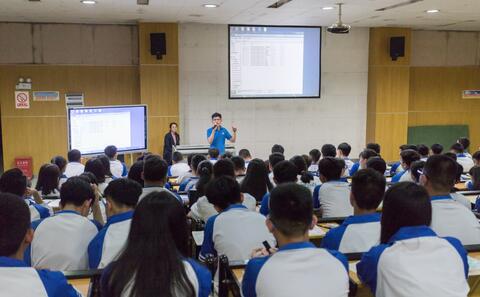 Kefan Yang speaks with students in China about comprehensive sexuality education and gender equality
My name is Yang Kefan, a 26-year-old Tai ethnic minority from Xishuangbanna, in the southwestern borderland of China. As a #Case4Space youth advocate for gender equality, I have been engaging in youth empowerment, promoting gender equality and non-discrimination at the community level wherever I am based.
In the past seven months in particular, I came back to my hometown, started a youth-led volunteer-based initiative, introducing Comprehensive Sexuality Education (CSE) to schools and villages. So far, I have set up a team of over 60 volunteers, organized 53 workshops and trained over 5000 people. The initiative is exemplary of youth creating safe civic spaces for and by themselves.
Promoting gender equality in China, it is almost impossible to organize collective movements or activities including campaign and protests. However, no one would oppose or resist an education initiative that is aligned with international standards and genuinely beneficial for our society and future generations. I thus figured out that CSE is such a great framework, aligned with the 2030 Sustainable Development Agenda and in particular dealing with SDG 3 -  Good Health and Well-being, SDG 4 - Quality Education and SDG 5 - Gender Equality, to be introduced into my hometown thereby enhancing people's health and well-being and promoting gender equality. But things are not easy when it comes to understanding CSE.
In the context of China, the topic of sexuality is a taboo, few people talk about it openly. As a Chinese idiom goes, "谈性色变 / Tan Xing Se Bian", meaning people turn pale at the mention of sex. Every time when people get to know that I work on sexuality education, not surprisingly, most reactions would be, "What? Sex??" – and then that's the end of the conversation.  In most cases, teachers who are supposed to teach sexual and reproductive health find it embarrassing to deliver the lessons. Given the fact that in China sexuality education is not compulsory in school curricula, many schools do not provide such a course simply because it doesn't relate to students' grades.
So, how do we open the door to CSE's safe space?
At first, I tried the top-down approach, reached out to the local education bureau and other relevant public authorities for collaboration but failed. I eventually started taking the bottom-up approach by using my personal network -- our team managed to get into villages for trainings with content designed for different age groups. Then we got invitations from teachers to conduct trainings for their classes, and parents' committees that can organize extra-curricular activities also invited us from time to time. Gradually, the positive feedback goes to school management so that we are asked to give lectures at the school level. Even so, the process is long and not every school is so open.
To get CSE into more schools, many advised us to avoid the word "性 (sex/sexuality)" which is considered too sensitive. Instead of calling the initiative sexuality education, framing it as health education or prevention education. I didn't like the idea since other terms are unilateral, do not represent the cover-all knowledge, skills and attitudes that CSE aims to convey. Most importantly, I contend that the more we talk about sexuality, the less people will feel sensitive about it. The initiative is a process of desensitization and normalization of sexuality education in people's daily lives, thereby creating a safe civic space for the public to face the issues rather than avoiding it.
Once the safe space of CSE is created, we should make it more visible to reach out to vulnerable and marginalized groups and provide support, meanwhile attracting more and more change-makers to contribute to the space building.
As our initiative grew, the number of volunteers saw a quick increase from only four people originally to over 60 members, from which I have trained 12 active players into trainers, which is also a process of empowering youth. As they said, "We have benefited a lot as we participate in the process, slowly we also became influencers in our circle of friends"; and another one recently found us, saying "I wanted to do the similar project long time ago, but I was alone".
The safe space doesn't only exist in our CSE workshops where students can freely talk about sexuality, express their gender identity and sexual orientation, it also expands to their families which boosts constructive inter-generational dialogue.
For example, a mother of two kids thanked me for the trainings, told me that her elder daughter had started getting her menstrual cycle recently, she is able to handle it properly and feels comfortable to talk about it with parents. As the daughter asked, "Mom, do boys also use sanitary towels when they get spermatorrhea?". Besides, the mother noted that her family relationships have improved as they have created a safe and enabling environment where children trust parents, explore positive sexuality and good sexual and reproductive health together.
All in all, the safe space of CSE, as a way of enhancing social inclusion, must be maintained and safeguarded in a sustainable model. Everyone has the right to receive CSE, which perhaps more efficiently should start with adults or gate-keepers. Gaining support from them will largely help those talented and self-motivated young change-makers to develop such established civic spaces, making such spaces safer, more accessible, inclusive and sustainable.