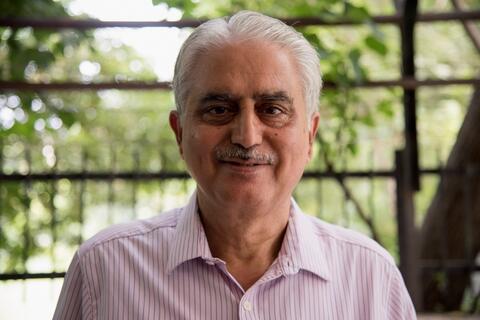 Kuldeep Kumar Dahar
"Many of us didn't even know what a smartphone was!" exclaims 68-year-old Mr Kuldeep Kumar, a retired government employee. He continues, "We didn't even know the difference between NOKIA and AIRTEL (a network provider). We thought that it was the same thing!" Meet Mr Kuldeep Kumar Dahar, a founder-member of Das Senior Citizen Welfare Association, a community-based NGO in North East Delhi run by senior citizens. The association primarily work with older persons, addressing the different issues and challenges they face, the internet is one of them.
In the age of technology with everything going 'digital', the way people interact and engage with each other has changed so much that the older generation is taking special classes just to keep up, just so they don't get left behind. But Mr Dahar and his friends are part of a very small percentage of the 104 million elderly in India* who actually have access to smartphones and the internet.
HelpAge India, a Delhi-based NGO which works with the elderly population in India, is teaching them the skills and knowledge required to take advantage of new-age technology through an initiative called 'Digital Literacy', to help bridge the technological divide between the younger and the older generation by encouraging the youth to teach the older generation the basics of technology. The initiative aims to make elderly people familiar in using smartphones and applications to communicate with others and avail themselves of the numerous services through the internet such as paying bills, booking tickets for travel etc.
Not only do these initiatives help people like Mr Dahar stay engaged and feel relevant, but it also helps them feel more confident while using the internet to look up information and while communicating with their family and friends on social media.  
"If we come across any difficulty or issues when using a smartphone, we don't know whom to turn to or ask for help. If I ask my child, they might tell me once but the next time, he or she might get irritated and not respond properly" says Mr Dahar.
Mr Dahar is today a wiser man. Not only does he know the difference between a cellphone brand and a service provider, but he also knows how to use digital platforms to pay utility bills. Now, he uses WhatsApp to coordinate and plan daily activities and important events conducted by the welfare association like field trips, yoga and health camps and sometimes, to also resolve family disputes -  the latter, perhaps to emphasize to his children, that he's figured out how to use a smartphone, all by himself!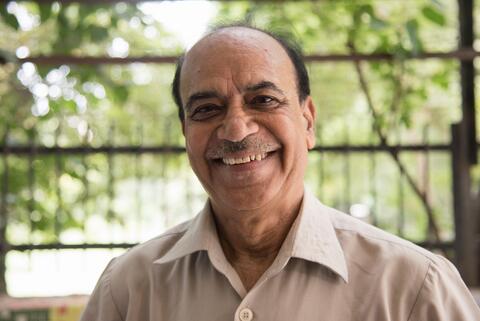 Keshwa Nand Chhabra
When Mr Ram Prakash Sharma passed away due to old age, no one came forward to carry out a funeral for him. Not even his children. His body just lay in the morgue for an entire day unattended. When Mr K. N. Chhabra, a 71-year-old retired government employee, reached out to Mr Sharma's relatives, they told him, they had no money to pay for the last rites, Just come and pay your respects, Mr Chhabra told them, I will take care of the rest.
Mr Keshwa Nand Chhabra is the President of Das Senior Citizen Welfare Association, a community-based NGO committed to addressing the needs and issues experienced by senior citizens in New Delhi. After he retired from service in 2009, he realized that the issues concerning the elderly people are often ignored. "I made a promise that I will try my best to help them in whatever way I can," he says.
In 2013, Mr Chhabra founded the Das Senior Citizen Welfare Association along with a few other like-minded people, all of the people his age. The association today is a sort of support system for the elderly community. Their approach is simple: provide a socially active, engaging and independent lifestyle for the elderly through activities and events such as yoga camps and field trips. They also conduct free health camps for the elderly ranging from a simple eye check-up to providing care for complicated conditions such as prostate cancer. Sometimes, the association also mediates in resolving family-related conflicts involving elderly people.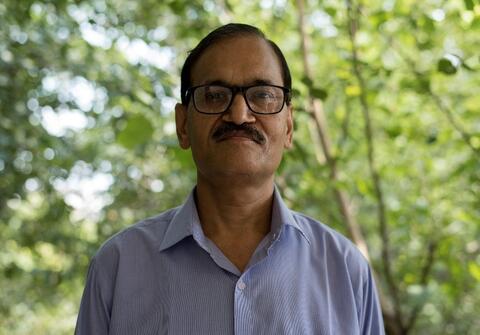 Narendra Kumar Rastogi provides free tuitions to poor students
Next to the association's office is a public park that is maintained by Mr Narendra Kumar Rastogi, a 58-year-old retired government employee and his wife.  You can find them in the association's office, teaching Mathematics to students for free, especially those from economically weaker sections. The couple lost their only son three years ago. When Das Senior Citizen Welfare Association decided they would also provide a space to help young students, Mr and Mrs Rastogi came forward to volunteer. They knew they had found a way to honour their son's memory.
Photo credit: HelpAge India