The Philippines - Marites, 37, was nine months pregnant when tropical storm Ondoy, one of the worst floods that hit Metro Manila, swept away her family's house along a riverbank in Cainta, Rizal in 2011. Marites' family was still living in an evacuation center when she went into labour a week later.
She did not have access to a health facility as the nearest birthing center was damaged by the floods. Fortunately, a medical mission organized by UNFPA, the United Nations Population Fund, specifically for pregnant and post-partum women was happening at a nearby municipal hospital. Two midwives were immediately sent to Marites to assist her in the delivery.
Marites was lucky she was able to deliver with skilled birth attendance. In many communities affected by disasters, natural or man-made, women are completely cut off from health care and other support services, either because they have been isolated in their communities or the health facilities have been destroyed.
On the average, women and girls of child-bearing age (15-49 years old) make up 25 per cent of the over 50 million people worldwide who have been forcibly displaced from their homes by conflict and disasters. They face a great risk of reproductive health-related illnesses, and death due to the lack of protection and an absence of aid delivery to address their needs. They are also exposed to abuse, sexual exploitation, violence, and forced marriage.
In the aftermath of typhoon Yolanda in the Philippines two years ago, it was estimated that there were 250,000 pregnant women in the worst-affected areas and about 900 childbirths were expected daily. At least two maternal deaths were reported in the province of Capiz as damaged health facilities were unable to treat the complications.
Global experience also shows that about 2 per cent of women 15 to 49 years old in an emergency situation are at an increased risk of gender-based violence. It is therefore essential to put in place prevention mechanisms and life-saving services to address GBV in such situations.
Many years back, humanitarian response was mainly about meeting basic needs of crisis-affected population such as food, water, and shelter. Other needs, including those related to sexual and reproductive health and childbirth, were seen by many as secondary.
The good news is, the sexual and reproductive health needs – including prevention and management of gender-based violence – of women and girls affected by disasters are getting better attention since 1995 when UNFPA and UNHCR led the formation of the Inter-Agency Working Group on Reproductive Health in Crises (IAWG). Vast improvements have been made in sexual and reproductive health response in humanitarian settings, from its virtual absence in 1994 to more comprehensive services and coverage today.
In the Philippines, UNFPA's response to sexual and reproductive health needs in humanitarian situations evolved from simply providing reproductive health supplies, equipment, and medicines to health facilities, and training of health service providers, to a more comprehensive approach beginning in 2009 with our humanitarian assistance for the Maguindanao conflict. 
Today, UNFPA's standard response to humanitarian crises involves the conduct of reproductive health medical missions where the following services are integrated:
Pre- and post-natal care
Newborn care
Health information sessions on reproductive health and gender-based violence
Family planning
Adolescent reproductive health, and
Provision of Dignity Kits, which are hygiene kits designed to respond to special needs of women and adolescent girls.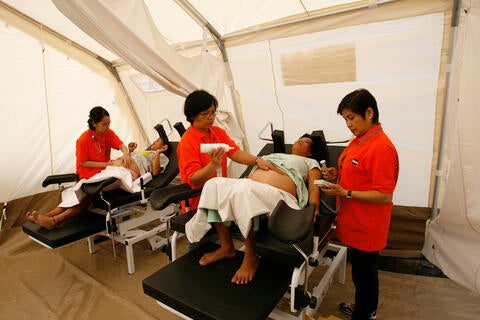 But while attention to sexual and reproductive health in emergencies has improved over the past 20 years, there remain challenges that need to be addressed, including the diminishing resources for humanitarian response.
These challenges and opportunities are the focus of the State of World Population 2015 report, Shelter from the Storm: A Transformative Agenda for Women and Girls in a Crisis-Prone World, which will be launched globally on Thursday, 3 December 2015.
This year's topic of the report is especially significant to the Philippines, being the fourth most natural disaster-prone country in the world. Aside from typhoons, floods, landslides, earthquakes, and volcanic eruptions, some parts of the country are also experiencing armed conflict.
The State of World Population is the annual flagship report of UNFPA, which brings global focus on emerging population issues and presents good practices from various contexts in approaching these issues.
By Klaus Beck
Country Representative, UNFPA Philippines