On World Population Day, the most important day in UNFPA's calendar, with the 2017 theme of Family Planning: Empowering People, Developing Nations, UNFPA brought Ambassadors, dignitaries, partners, friends and young people together for a celebration of rights, choice and opportunity in Bangkok, and many more live through Facebook. 
Our special programme honoured the rich legacy of the legendary Mechai Viravaidya, popularly known as Thailand's "Condom King", and a key architect of his country's successful family planning programme as well as its lifesaving public health campaign to address the HIV/AIDS epidemic. 
Khun Mechai's keynote address, "Four Journeys", outlined his work over the decades, from the time he entered the realm of public health and focused on family planning as a way to reduce poverty and strengthen socioeconomic viability, through the early years of HIV in Thailand when existing condom promotion programmes were built upon to advocate for safer sex and HIV prevention, and to the present time when Mechai's Bamboo School in Buriram is paving a new path in education approaches by creating citizens of the world grounded in respect for diversity.
Watch the event in full here:
Tough issues, frank dialogue 
A special panel of top policy experts, advocates and activists from across Asia and the Pacific took on some of the big challenges in ensuring access to sexual and reproductive health services, including family planning, from a human rights and gender equality perspective across Asia and the Pacific – all at a time when recent gains are under serious threat across Asia and the Pacific and beyond.
Our panellists  
Attorney Twyla Rubin of the Philippines Commission on Human Rights: Advocating for family planning and the country's Reproductive Health Law;
Pooja Badarinath of the Asian-Pacific Resource and Research Centre for Women (ARROW): Examining how to safeguard family planning and sexual and reproductive health and rights in increasingly conservative environments;
Tharita Ying Sathan, a prominent youth leader in Thailand who advocates for comprehensive sexuality education and access to sexual and reproductive health services for young persons in an inclusive and respectful environment; and,
Dr Gillian Le of the Nossal Institute for Global Health, Melbourne:  Co-author of country case studies (Lao PDR, Cambodia, Timor-Leste) on how to convince governments and the private sector to invest more in family planning services at a time of shrinking financial support from traditional donor countries and the UN system itself.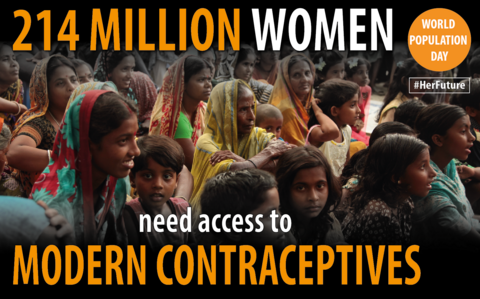 Why family planning?
Voluntary family planning saves lives and has the power to boost the development of entire countries. It empowers women and girls to complete their education, create and seize better economic opportunities and, ultimately, achieve their full potential. Enabling women to make decisions about their health and their futures is not only the right thing to do, but family planning is one of the best buys in international development, creating more stable and more prosperous societies around the world.
Just $8.39 per person could give women control over their fertility - UNFPA's Asia-Pacific Regional Director Yoriko Yasukawa writes for the World Economic Forum.
Today, there are approximately 214 million women in developing countries who want to time, space or prevent a pregnancy, but are not using modern contraception. Meeting this unmet need for contraception is crucial.  Combining it with investments in maternal and newborn health will empower individuals, families and communities; save the lives of mothers and newborns; and help with nation-building.
In recent years, many countries have made impressive progress toward expanding access to voluntary family planning services thanks to strong leadership from governments and other partners, including UNFPA:
For the first time in history, 300 million women and girls across 69 of the world's poorest countries are now using modern contraceptives.
As a result of the more than 300 million women using modern contraception in 2016, more than 82 million pregnancies, 25 million unsafe abortions and 125,000 maternal deaths are being averted annually.
These record high numbers have been achieved by building on existing global, national, and local initiatives to help 30 million additional women and girls use the contraceptives of their choice since 2012.
It's essential we continue this momentum to ensure that family planning is an option for all people, especially women and girls, everywhere to advance our shared vision of universal access to sexual and reproductive health, as laid out in the International Conference on Population and Development (ICPD) Programme of Action and the overarching 2030 Agenda for Sustainable Development.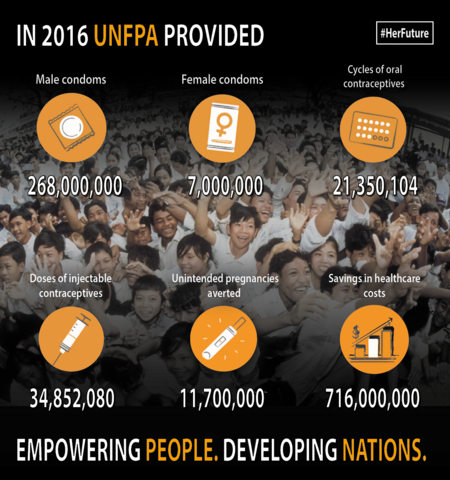 In the Philippines,  a workplace family planning project empowers women, and is good business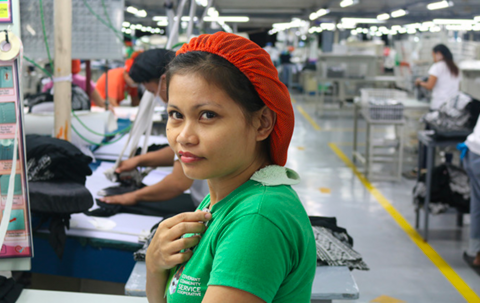 Cavite, Philippines - Seven months, Mae Esparcia, 30, gave birth to her child, Maria Carmen. After her delivery, Ms. Esparcia, a garments factory worker at Hamlin Industrial Corp. in Cavite, Philippines, decided to start using contraceptive pills, which she received for free - from her workplace.
"I'm taking the pills so that I avoid getting pregnant so soon after the the birth of my daughter," she told UNFPA, which is partnering with Hamlin to support the programme, part of efforts to expand access to family planning services in the Philippines. The full story. 
More information