UNFPA Goodwill Ambassador inspires audiences and is inspired by them
Leading Hollywood actor, humanitarian and United Nations Population Fund (UNFPA) Goodwill Ambassador Ashley Judd is savouring her recent visit to India, where she made an impassioned call for girls to claim their fundamental rights and to resist harmful practices such as child marriage.
"You all are so smart. Stand for your rights – the right to choose when to marry and when to have children. Stand against sexual abuse. Be bold, be strong and be powerful women" she told a crowd of 25,000 girls and boys from indigenous communities in the Indian state of Odisha.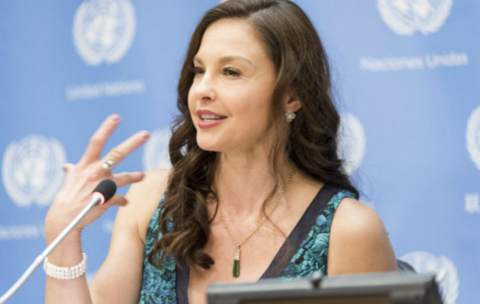 Ashley Judd became a UNFPA Goodwill Ambassador in March 2016. 
The Emmy Award-winning actor spoke at a rally organized by the prestigious Kalinga Institute of Social Sciences, which honoured her activism and commitment with its 2016 Humanitarian of the Year Award.  
February 2017 marked Ashley Judd's first visit to India in her capacity as Goodwill Ambassador to promote UNFPA's work in ensuring every pregnancy is wanted, every childbirth is safe and every young person's potential is fulfilled.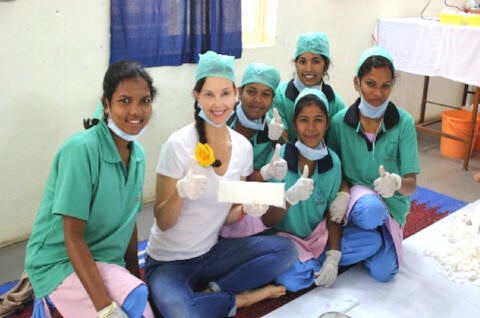 Whilst meeting girls working to produce sanitary pads, the Hollywood star called for more action to tackle taboos around menstruation. 
On her next stop, Ms. Judd met with girls working at a sanitary pad production plant in Odisha that has received UNFPA support, and called for more action to break down damaging taboos around menstruation.
Age-old superstitions and stereotypes in India and many other countries, both in South Asia and beyond, ostracize menstruation and other aspects of women's and girls' lives and health.  UNFPA, together with partners including governments, UNICEF and a range of civil society organizations, has been working to change that.
"Sexual and reproductive health and rights are human rights and very much essential for women's empowerment," she said.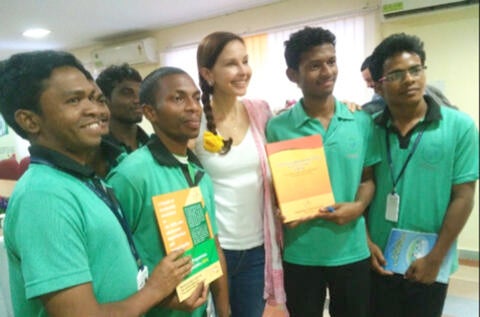 UNFPA Goodwill Ambassador Ashley Judd meets UNFPA-trained peer educators in Odisha. 
Ms Judd also met with UNFPA-trained youth peer educators, who are teaching other young people about puberty and healthy approaches to sexuality and relationships, including respect for women and girls and ways in which men and boys can be sensitized about gender-based violence.
The peer educators spoke of the need to end child marriage, to believe in the power of girls and to draw society's attention to the risks associated with adolescent pregnancy, sexual abuse and the damage to young lives wrought by negative attitudes towards women and girls.
"Boys and men, girls and women. You need to stand for the rights of each and every girl," she said.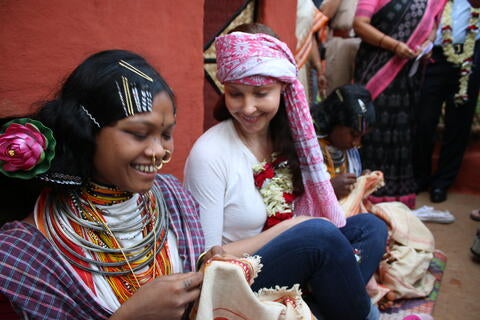 A girl from the Bonda indigenous group in Odisha shares traditional cultural practices with Hollywood actor Ashley Judd. 
At the Shantipalli slum in the Odisha state capital of Bhubaneswar, local girls shared their dreams and aspirations amid the tough daily realities of life their challenged environment with the Hollywood icon, explaining how the city council now helps them get an education. 
In a meeting with Naveen Patnaik, Odisha's Chief Minister, Ms. Judd expressed her appreciation for the state government's efforts to boost the health, education and well-being of the nearly half a million indigenous students at government-run schools and for pushing positive policies for the empowerment of women and girls.
"I am very happy that I got a remarkable opportunity to spend time with tribal children," she said towards the tour's end.
"The whole trip has been profoundly inspiring and I am taking back with me many valuable lessons about the role of education, nutrition and the community in raising children in a safer environment. I am happy that I got an opportunity to talk with girls about various issues related to their bodies. All girls have the right to grow and receive an education. They have full rights to live a life full of dignity, to get good education and skills, maintain their culture and go back to their own village to help people there bring about change."
Ashley Judd was appointed UNFPA Goodwill Ambassador in March 2016. Ms. Judd, who is strongly committed to social justice, believes that the sexual and reproductive health of girls and women is at the heart of poverty eradication and sustainable development. She is also a passionate advocate of the right of every girl and boy to enter adulthood safely and empowered, and for ending all forms of gender-based violence everywhere.