Events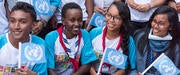 12 August 2017 - 12 August 2017
Global
On 17 December 1999, in its resolution 54/120, the United Nations General Assembly endorsed the recommendation made by the World Conference of Ministers Responsible for Youth (Lisbon, 8-12 August 1998) that 12 August be declared International Youth Day.
Since the adoption of Security Council Resolution S/RES/2250 (2015) in 2015, there is growing recognition that as agents of change, young people's inclusion in the peace and security agenda and in society more broadly, is key to building and sustaining peace.
Details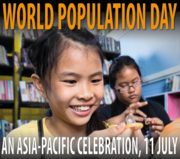 11 July 2017 - 11 July 2017
Bangkok,Thailand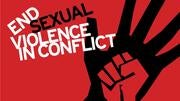 19 June 2017 - 19 June 2017
Global
On 19 June 2015, the United Nations General Assembly (A/RES/69/293) proclaimed 19 June of each year the International Day for the Elimination of Sexual Violence in Conflict, in order to raise awareness of the need to put an end to conflict-related sexual violence, to honour the victims and survivors of sexual violence around the world and to pay tribute to all those who have courageously devoted their lives to and lost their lives in standing up for the eradication of these crimes.
Details
Pages